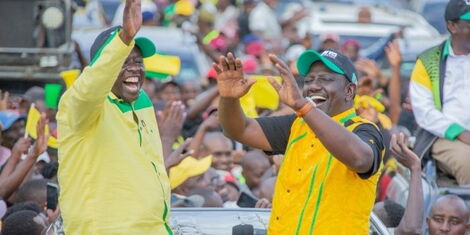 Kenya Kwanza's presidential running mate, Rigathi Gachagua, has gone on the offensive, accusing Interior Minister Fred Matiang'i and his First Secretary Karanja Kibicho of funding heads and under-heads to campaign for Azimio La Umoja's Raila Odinga.
At a meeting in Nyeri on Tuesday, Aug. 2, Gachagua told administrators to use the money Kibicho allegedly gave them to improve their wife's fashion sense.
He guaranteed them that Kibicho would not find out that they would not use the money for its intended purposes.
Vice President William Ruto (right) and his running mate Rigathi Gachagua (left) in Nyeri on Saturday, May 21, 2022.
DPPS
"To our chiefs, please respect the people, politics is not in your job description. The money you receive from Kibicho, use it to buy new dresses for your wife to make them look neat.
"Don't worry, they won't get you anywhere. In fact, he and Interior Minister Fred Matiang'i are going home with Uhuru next week," Gachagua told administrators.
Vice President William Ruto's running mate also promised that he would improve the work of the chiefs and… Nyumba Kumic presidents as soon as Kenya Kwanza takes over the government.
"For the chiefs, their assistants and other administrators, we will make sure that we enable you to make phone calls and also provide you with something to eat while you perform your duties in front of the public," Gachagua added.
For his part, Ruto asked the people of Mount Kenya to heed President Uhuru Kenyatta's warning to them and not vote for Azimio's candidate, Raila Odinga.
"Who told us that this man was a… Muguruki? (a mad man) Wasn't it Uhuru? Isn't he the one who told us he was a… Kimundu (A madman)? Let's listen to what Uhuru told us and the Kimundu or muguruki home," said Ruto.
In an earlier press conference, Matiang'i rejected accusations by DP Ruto and his allies that he would meet with leaders in the area to push the Azimio agenda to the people of Mount Kenya.
He further rejected reports that some individuals in the president's cabinet were responsible for the pamphlets that incited Kenyan communities against each other and which were distributed in some parts of the country.
"It seems some of our leaders have been vaccinated against the truth. Some of those claims are outrageous and ridiculous, I meet chefs because it's my colleagues we work with.
"Even if we claim that the leaflets were provided by the president's office, we have eight suspects in custody and none of them are employees of that office," Matiang'i said.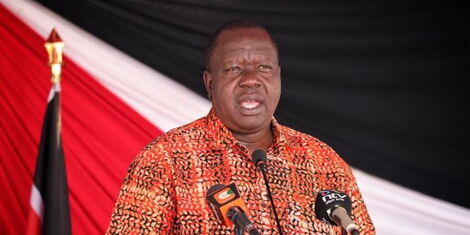 Interior CS Fred Matiang'i during the inauguration of the ATPU Coast Headquarters in Mombasa on Wednesday 20 July 2022.
British Embassy, ​​Nairobi.
suspect