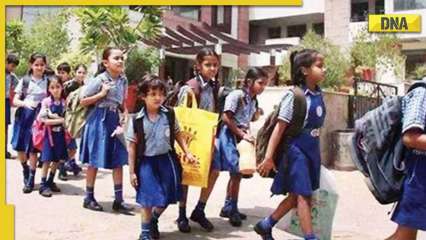 Uttar Pradesh: Schools remain closed until grade 8 in Meerut, times changed in Lucknow amid severe cold (file photo)
Uttar Pradesh: As the cold snap continues across northern India, including Uttar Pradesh, all schools remain closed until grade 8 in Meerut. Also, school times for grades 9-12 are from 10am – 3pm.
In Lucknow, times for grades 1-8 for school students have been changed to 10am-3pm. Schools in Gorakhpur will also remain closed until January 17. Educational work in the schools from LKG to Inter will remain closed on January 16 and 17.
Schools where preboard and practical exams are organized. Those schools can conduct preboard and practical exams from 10 a.m. to 2 p.m.
On Sunday, India's Meteorological Department predicted dense to very dense fog likely in some parts of Punjab, Haryana, Chandigarh and Delhi; in isolated pockets over Uttar Pradesh.
Dense fog in isolated areas over Jammu Division, Himachal Pradesh, Uttarakhand, northern Madhya Pradesh and Bihar is also expected with cold daytime conditions likely in isolated areas over Uttar Pradesh, the circular said. Dense fog engulfed parts of Uttar Pradesh on Sunday, reducing visibility in many areas.
READ | Madhya Pradesh CM Shivraj Singh Chouhan's helicopter crash lands

IMD predicted similar weather conditions in the northwestern part of the country over the next five days. On Saturday, the weather department forecast dense to very dense fog over Punjab, Haryana, Chandigarh, Delhi, Uttar Pradesh and Bihar over the next five days.
Due to northwesterly winds from the Himalayas over the plains of northwest India, minimum temperatures are very likely to drop by 2-4 degrees Celsius over the northwest and adjacent central India over the next two days, the IMD predicted.
(with input from ANI)