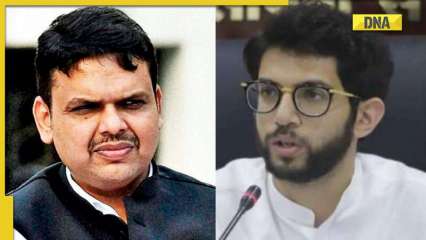 Shiv Sena leader Aaditya Thackeray hit back at Maharashtra's deputy chief minister Devendra Fadnavis on Saturday over his "Gujarat is not Pakistan" remark amid an argument over the shift of the Vedanta-Foxconn project to the neighboring state.
Aaditya, a former minister, asked if Maharashtra is Pakistan to bring the project to Gujarat. "Is Maharashtra Pakistan you brought the project to Gujarat? What mistake did the youth of Maharashtra make?" asked Aaditya.
He spoke at an event to pay respects to social reformer and his great-grandfather Keshav Thackeray, also known as Prabhodankar Thackeray. Fadnavis said Friday that the neighboring state is "not Pakistan" and also accused the previous government of Maha Vikas Aghadi (MVA) of corruption.
"Gujarat is not Pakistan. It is our brother. This is healthy competition. We want to be ahead of Karnataka and everyone else. The opposition policy was to stop everything, and with such a policy Maharashtra could not beat Gujarat," he said. the senior. BJP leader had said.
The government of Eknath Shinde-Devendra Fadnavis has faced anti-aircraft fire after Vedanta-Foxconn chose Gujarat to set up its multi-billion dollar semiconductor factory. Bharatiya Janata Party (BJP) leader Ashish Shelar on Thursday demanded an investigation by a retired judge into the entire episode.
He had also delved into the previous MVA government, saying that she had offered tax breaks on foreign liquor rather than for the project, and that if she had, the project would have remained in Maharashtra. Without mentioning Shelar, Aaditya also asked if it was a crime to raise Maharashtra's problems.
"Whoever speaks will be investigated or charged against him. Is strengthening Maharashtra's voice a crime? Who are you going to investigate? The Center or (Anil) Agarwal (the chairman of Vedanta)," he said.
READ | Concerns over Rs 1,500 crore land deal from the Government of Karnataka in Bengaluru, complaint lodged with PMO