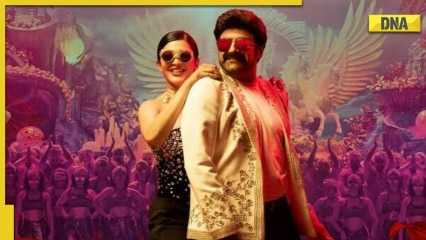 A show of Nandamuri Balakrishna's latest release Veera Simha Reddy was canceled at an undisclosed venue abroad after the actor's fans partied a little too hard at the theater. A video of the incident previously surfaced on social media with misleading claims that it came from the US or UK. The video shows a police officer and a cinema director admonishing the fans and ending the screening.
Veera Simha Reddy is an action entertainer with Balakrishna in a dual role. The film was released in theaters on Thursday ahead of the Sankranti festival. Like most of the actor's major releases, this one was also accompanied by large-scale fan celebrations, including in theaters. However, one party in a venue abroad turned out to be one too many.
Video of the incident shows a cinema executive speaking to the audience in the aftermath of the celebration. "Sorry. I know many of you came here to watch the movie honestly and have a great night. I understand that but don't blame me, blame those who caused the confusion. This situation has never happened before It's not the first time we show Telugu movies. But sorry, this is not acceptable. We've never had this problem before," he says.
#NandamuriBalakrishnas #VeeraSimhaReddy the show stopped midway through and the audience was told to leave the theater in Dallas, USA#NBK fans Raccha in states have started this. This is just outrageous pic.twitter.com/cOjCTSZAPS

(@AnjiNallamothu) January 12, 2023
The person, who was flanked by a police officer, then asks the audience to leave the theater. "I'm sorry, but I'm going to have to ask you to leave," he says as the crowd protests. The policeman then repeats the request. It's not clear where the incident took place, as multiple reports claimed the video came from different countries. But the police uniform and accent suggest an overseas location.
The Telugu drama has opened to a promising response and many pundits predict it will break the actor's opening day record. It collected Rs 16 crore in advance reservations for the first day and is pegged at more than Rs 30 crore on the opening day.