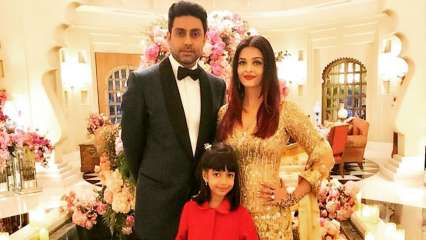 Aishwarya Rai Bachchan and Abhishek Bachchan recently attended the wedding of her cousin Shloka Shetty. The couple were joined by their daughter Aaradhya Bachchan and all dressed in traditional clothes. In the photos, Aishwarya looked stunning in a silver Anarkali costume with a matching mask, while Abhishek sported a handsome look in a light green kurta and pajamas. Aaradhya looked cute in a pink dress with a lighter pink sheer dupatta and a red mask.
Now, we've got our hands on a video from the wedding festivities in which the family of three squeezed one leg together. In the video, Aishwarya, Abhishek and Aaradhya danced to his popular song 'Desi girl'of Dostana. They were seen walking up the hook steps and Aaradhya even showed someThumkas". Seeing her do this, Aishwarya gave Aaradhya a hug and they all laughed heartily.
Check out the photo and video below:
Aishwarya is a passionate mother of Aaradhya and she never leaves her by making public appearances. Earlier speaking of his baby girl, the actor told TBEN: "I can see a mini-me in Aaradhya. I go with her to school every day to drop her off and pick her up. I do it because I love doing it. I appreciate the time we spend together. I am delighted and it is the contentment that everyone can see. I am happy with the choices I made for her. I will continue to d 'be protective, but I' I will continue to try to make everything normal. "
Meanwhile, on the job front, Aishwarya turned for Mani Ratnam Ponniyin Selvan at Ramoji Film City in Hyderabad. While the next Abhishek films are The big bull, Bob Biswas and Dasvi.
.