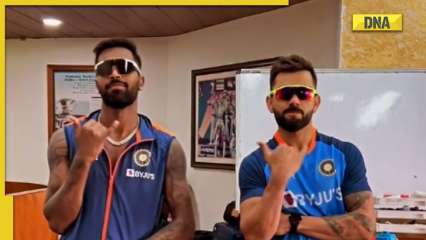 Grooving in attitude to the viral TikTok song, Indian star cricketers Virat Kohli and Hardik Pandya stunned their fans in a new Instagram dance real. Virat and Hardik set the internet on fire in a short coordinated dance clip to the viral song "Shakaboom".
The video was shared by Hardik, who tagged Virat and wrote, "You know how we do," quoting the lyrics of the song. His teammate and former skipper replied: "Shakaboom". Watch the video here:


Fans went over the video, sharing their praise and love for the star cricketers with heart emojis. The song in the background with Kohli and Pandya dancing is The Beatnuts•Se Acabo (Remix) (feat. Method Man).
Meanwhile, on the cricket front, both Virat Kohli and Hardik Pandya are in the Team India roster for the upcoming T20I World Cup next month. India will begin its T20I World Cup campaign against arch-rival Pakistan on October 23.
For the T20I World Cup, both Virat and Hardik are part of the roster for the three-match T20I series in India, at home to Australia, which begins Tuesday (September 20). Virat will also be seen as India takes on South Africa in a 3-game home run ahead of the World Cup on September 28. Hardik will undergo conditioning related work at the National Cricket Academy (NCA) during the South Africa series.
READ | Should Virat Kohli open the innings in T20I- Here's what skipper Rohit Sharma has to say