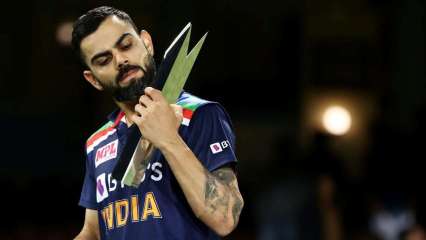 After days of speculation, Virat Kohli has finally announced that he will step down as Indian captain of the T20I after the ICC Men's T20 World Cup. Kohli said he needed the space to fully lead the ODI and Test teams and had extensive discussions with Rohit, team management and BCCI on this matter.
Sharing the news on his social media, Kohli wrote: "I have been fortunate not only to represent India but also to lead the Indian Cricket Team to the best of my ability. have supported in my journey as captain of the Indian Cricket Team. I couldn't have done it without them – the boys, the support staff, the selection committee, my coaches and all the Indians who prayed for us to win ".
– Virat Kohli (@imVkohli) September 16, 2021
He added: "Understanding the workload is a very important thing and given my immense workload over the past 8-9 years, playing all 3 formats and capturing consistently for 5-6 years, I think I have to give me space to be fully ready to lead the Indian team in test and ODI Cricket.
"I gave everything to the team during my tenure as T20 captain and will continue to do so for the T20 team as a drummer in the future."
He concluded by saying: "Of course, it took a long time to come to this decision. After much thought and discussion with my relatives, Ravi bhai and also Rohit, who has been a vital part of the management group, I decided to step down as T20 captain after this T20 World Cup in Dubai in October.
"I have also spoken to Secretary, Mr. Jay Shah and BCCI President, Mr. Sourav Ganguly, as well as the coaches. I will continue to serve Indian Cricket and the Indian team to the best of my ability."
Earlier, according to a The Bharat Express News report, BCCI sources said: "Virat himself will make the announcement. He feels he needs to focus on his stick and get back to being what he always has been – the best batsman. in the world."
The Indian team led by Kohli was very close to winning the ICC World Test Championship where the team lost to New Zealand. India last won the ICC Trophy in 2013 under the leadership of MS Dhoni, who led the men in blue to glory at the Champions Trophy.
.