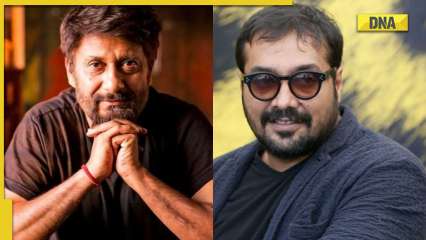 Anurag Kashyap thinks Prime Minister Narendra Modi's warning to his party operatives not to comment on films is now 'too late'. Vivek Agnihotri has responded to Anurag's views on PM on his Twitter
Agnihotri and Kashyap are often at odds. So when Kashyap said "crowd got out of hand," Vivek shared his thoughts on him on his Twitter, on his social media account, he tweeted, "Audience is now 'crowd'? Wow! Wow! Wow!"
Here's the tweet

Public is now 'crowd'?
Wow! Wow! Wow! pic.twitter.com/M1MF3FjegC— Vivek Ranjan Agnihotri (@vivekagnihotri) January 20, 2023
Prime Minister Narendra Modi on Wednesday stressed a series of dos and don'ts for his party leaders. In his message, Prime Minister Modi warned his party members and asked them to refrain from "unnecessary comments" on irrelevant topics such as films. Modi took a strong call against the boycott culture. Although PM's message met with positive response, it took filmmaker Anurag Kashyap a blow.
Anurag recently attended the trailer launch of his upcoming movie Almost Pyaar starring DJ Mohabbat. During the press conference, Anurag was asked to comment on the Prime Minister's support for the brotherhood. Without thinking much about it, Anurag said, "Woh agar 4 saal phele keh dete toh wakiye fark padta. Abhi toh mujhe nahi lagta ki koi…apne logo ko koi kabu kar paata hai. Cheezein hatah se bahar se nikli hui hai. Abhi aisa nahi hai ki koi kisi ki sunega (If this action had been taken four years ago, it would have had an impact. Now things are out of control. No one will listen to it now)."
Kashyap continued: "Jab aap prejudice ko empower karte ho silence se, jab aap hate ko empower karte hai silence se… aur woh ab itni zyada empower ho chuki hai, takatwar ban chuki hai. Woh mob bahar nikla chuka hai. ( When you reinforce prejudice and hatred, the mob is emboldened, and now it has become mighty." Vivek's The Kashmir Files was re-released on January 19. While Anurag's next Almost Pyaar with DJ Mohabbat hits theaters on February 3.