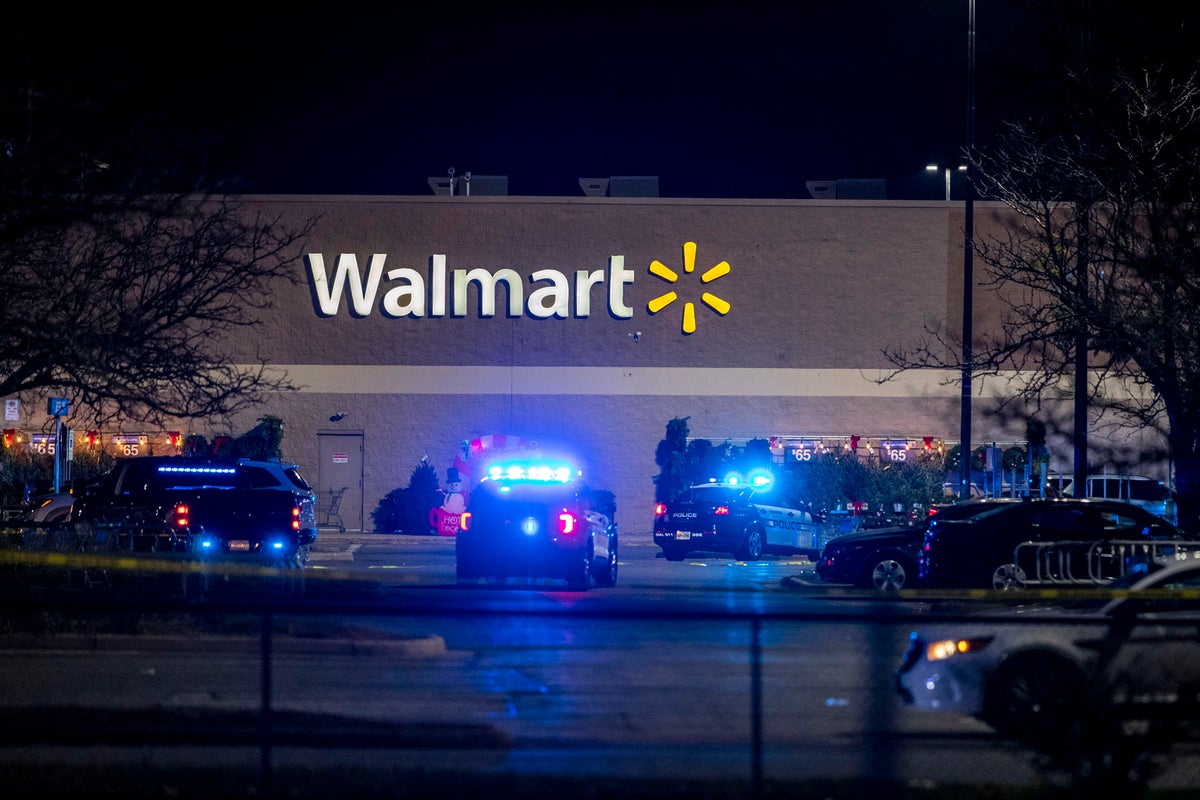 Police spokesperson provides update on Walmart shooting
A Walmart employee, according to authorities, shot and killed six people in a mass shooting at a store in Chesapeake, Virginia, before turning the gun on himself.
Police were called to the store around 10:12 p.m. on Tuesday evening to find several dead and injured at the scene.
Six victims were killed in the attack and another four were hospitalized with injuries on Wednesday morning.
A statement from Walmart confirmed the identity of the alleged shooter as Andre Bing, the night team leader, who has been employed by the company since 2010.
Police executed a search warrant at the suspect's residence in the aftermath of the shooting and have determined there is "no ongoing risk to the public," the police chief said.
The identities of the victims have also not been officially released at this time, but a memorial to one of them has been placed near a tree outside the store.
A motive for the shooting is unknown, but witnesses have said they believe it was planned, aimed at colleagues, and remember the shooter laughing.
1669233147
Biden offers support
President Joe Biden spoke with Virginia Governor Glenn Youngkin this afternoon to offer his support and possible federal assistance, according to the White House press office.
Oliver O'ConnellNov 23, 2022 7:52 PM
1669232427
Analysis: Why the hell can't America put an end to this deadly gun violence?
You're out of words and you're out of emotions, writes Andrew Buncombe.
But in addition to sympathy for the victims, there are two other emotions that bubble up and don't go away. And they are anger and indignation.
Oliver O'ConnellNovember 23, 2022 7:40 PM
1669232130
Bing has multiple magazines on person and one weapon
In an official statement, the city of Chesapeake authorities confirmed Andre Bing's identity as the shooter and that he was carrying a pistol and several magazines.
Oliver O'ConnellNovember 23, 2022 7:35 PM
1669230867
Walmart CEO releases statement
Walmart President and CEO Doug McMillon released the following statement via LinkedIn.
The devastating news of last night's shooting at our store in Chesapeake, VA at the hands of one of our employees has hit our Walmart family hard. My heart aches for our employees and the Chesapeake community who have lost or injured loved ones. We are here for them today and in the challenging days ahead they will have our support. We appreciate all of our employees, first responders and local officials who are already on the scene to provide support as we work together to navigate this tragedy.
Oliver O'ConnellNov 23, 2022 7:14 PM
1669229727
Virginia state senator rejects GOP thoughts and prayers
A Democratic state senator in Virginia took issue with her Republican enemies during an interview with CNN Wednesday morning after a deadly shooting broke out late Tuesday night at a Walmart in her state.
As Virginians woke up Wednesday morning to news of yet another mass shooting in their state, Senator Louise Lucas demanded that politicians stop offering their condolences for such heinous acts until a serious effort was made to pass gun violence prevention measures.
Oliver O'ConnellNov 23, 2022 6:55 PM
1669227927
What we know about Andre Bing alleged gunman in Chesapeake Walmart mass shooting
Andre Bing, a 31-year-old from Chesapeake, is accused of opening fire in the break room of the store on Sam's Circle around 10 p.m. Tuesday.
Six victims — including a 21-year-old colleague — were killed in the attack before the attacker reportedly shot and killed himself, police said.
The motive for the attack remains unclear, but surviving employees have claimed he had "problems" with other members of staff.
Oliver O'ConnellNov 23, 2022 6:25 PM
1669227027
Top Virginia Republicans are not referring to "shooting" in social media responses to the shooting
In the aftermath of the Chesapeake shooting, social media statements from Virginia Republican Governor Glenn Youngkin and his Lieutenant Governor Winsome Earl-Sears condemned "senseless" and "heinous" acts of violence, but neither mentioned the word "shooting" or referred to the fact that a gun was used in the murders.
"Our hearts break with the Chesapeake community this morning," Mr. Youngkin shared on his social media accounts on Wednesday. "I remain in contact with law enforcement this morning and have made all resources available as this investigation progresses. Horrific acts of violence have no place in our communities."
Asked by TBEN if his office plans to issue a formal statement about the shootings, his office shared a two-minute video of a press conference, in which Mr Youngkin addressed the "heinous, senseless act of violence" in Chesapeake. In neither statement does he mention the type of violence or how the victims were killed, or how the gunman appears to have committed suicide.
His office released a formal order to lower flags to half-staff "out of respect for and in memory of the victims of the Chesapeake shooting."
A social media statement from Lieutenant Governor Winsome Earl-Sears — who posed with an assault rifle in campaign ads and defended gun ownership at the Texas National Rifle Association conference in the aftermath of the Uvalde massacre — said that "our hearts continue to grieve because we hear about more victims of senseless violence in Chesapeake."
We mourn the many victims of deadly violence and suicide across the Commonwealth and our country," she added. "Our society is suffering. All life is precious. I commit to making mental health issues a priority of my office and will work with the Governor, Attorney General, General Assembly and local leaders to address this crisis. Let's mourn and pray for these families as we begin to gather for Thanksgiving as they will have one last seat at their table.
Oliver O'ConnellNov 23, 2022 6:10 PM
1669226367
Shooter identified as Andre Bing
A statement sent to TBEN by Walmart identifies the manager responsible for the shooting as Andre Bing.
While the details of the tragic incident at our store in Chesapeake, Virginia are not yet known, authorities have confirmed multiple fatalities. We are focused on doing everything we can to support our employees and their families during this time. The alleged shooter has been identified as Andre Bing. We can confirm that he was a Walmart employee. Andre's position with the company was night team leader and he has been with us since 2010. We are grateful to the local first responders and will continue to work with local law enforcement as they continue their investigation.
Oliver O'ConnellNov 23, 2022 5:59 PM
1669225196
'He didn't say a word'
Employee Briana Tyler said workers had gathered in the break room as they usually did before their shift.
"I looked up and my manager just opened the door and he just opened fire," she told TBEN's Good morning Americaadding that "several people" fell to the ground.
"He didn't say a word, he didn't say anything at all," she said.
Solesky confirmed that the gunman, who used a gun, was a Walmart employee, but did not give his name because his family had not been notified. The police chief could not confirm whether the victims were all employees.
Employee Jessie Wilczewski told Norfolk television station WAVY that she hid under the table and that the gunman looked at her with his gun pointed at her, told her to go home and she left.
"It didn't even look real until you could feel the… 'pow-pow-pow,' you can feel it," Wilczewski said. "I couldn't hear it at first because I think it was so loud, I could feel it."
Oliver O'ConnellNov 23, 2022 5:39 PM
1669224446
Police are releasing more details about deaths and injuries
The Chesapeake Police Department has released more details about the scene they encountered at the Walmart, saying they are continuing to work with the victims' families before releasing their identities and are currently investigating the victims' employment status.
There were a total of seven deaths. Three people, including the gunman, were found dead in the canteen of the store. One victim was found dead in front of the store. Three other victims were taken to local hospitals for further treatment but succumbed to their injuries.
At least six other victims were transported to local hospitals for further medical treatment. One of these individuals is currently in critical condition. We continue to work with hospitals in the region to identify any additional injuries that may have been self-reported.
Oliver O'ConnellNov 23, 2022 5:27 PM