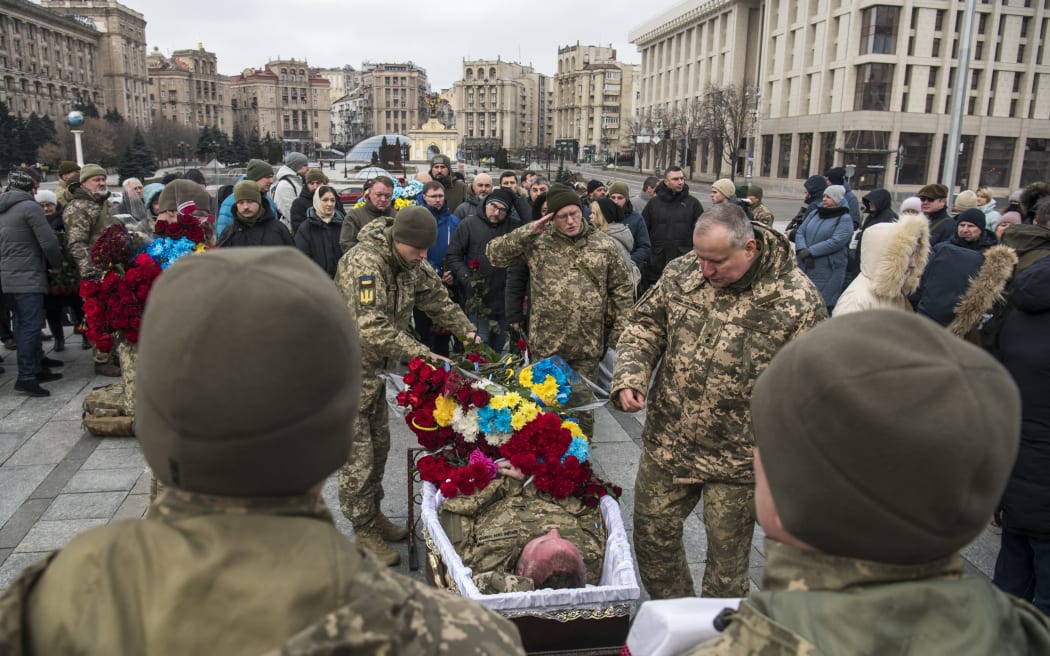 Russian forces have intensified their assault on the eastern Ukraine town of Soledar, while Ukrainian forces are facing waves of attacks, officials in Kiev say.
The British Ministry of Defense also said that the Russians and troops from Russia's Wagner contract group are now likely to have most of the small salt mining town under control after the advance over the past four days.
Soledar, in the industrial Donbas region, is a few kilometers from Bakhmut, where troops from both sides have suffered heavy casualties in one of the most intense trench warfare since Russia invaded Ukraine nearly 11 months ago.
"Russian Soledar axis is most likely an attempt to encircle Bakhmut from the north and disrupt Ukrainian lines of communication," Britain said briefly in an intelligence agency.
Ukrainian President Volodymyr Zelenskiy said in his nightly video address that Bakhmut and Soledar were holding hands.
He mentioned new and fiercer attacks in Soledar, where he said no walls were standing and claimed the land was covered with Russian corpses.
"Thanks to the resilience of our soldiers in Soledar, we have gained extra time and extra strength for Ukraine," Zelenskiy said. He did not explain what he meant by gaining time or strength.
The Russian Defense Ministry did not name Soledar or Bakhmut in a press briefing.
Wagner was founded by Yevgeny Prigozhin, an ally of Russian President Vladimir Putin.
It draws a number of recruits from Russian prisons and is known for its uncompromising violence. It is active in conflicts in Africa and has played a prominent role in Russia's war effort in Ukraine.
Wave of attacks
Prigozhin has been trying to capture Bakhmut and Soledar for months. He said its meaning lay in a network of cavernous mining tunnels underground, which could contain troops or tanks.
Ukrainian military analyst Oleh Zhdanov said the fighting in Bahkmut and Soledar was "the most intense on the entire frontline".
"So many remain on the battlefield … dead or wounded," he said on YouTube.
"They attack our positions in waves, but the wounded, as a rule, die where they lie, either from exposure to the cold or loss of blood. No one comes to help them or collect the dead from the battlefield."
Reuters could not immediately verify the battlefield reports.
At an evacuation center in nearby Kramatorsk, 60-year-old Olha said she fled Soledar after moving from apartment to apartment, as each apartment had been destroyed in tank battles.
Not one house has survived intact. Apartments were on fire and broke in half," said Olha, who only gave her first name.
Call for arms
Ukrainian officials, led by Supreme Commander General Valery Zaluzhniy, have warned that Russia was preparing new troops for a new offensive on Ukraine, possibly on the capital Kyiv.
Zelensky also appears to be counting on securing more advanced weaponry from Ukraine's western partners to repel attacks and eventually drive out Russian forces.
France, Germany and the United States all pledged to send armored fighting vehicles last week, fulfilling a long-standing Ukrainian request. Britain is considering supplying tanks to Ukraine for the first time sky news reported, citing a Western source. The British Ministry of Defense did not comment.
Tensions between US-led NATO and Russia are rising
One of President Vladimir Putin's closest allies said today that the West, led by the US, wants to divide Russia into parts and eventually wipe it off the political map of the world.
"The events in Ukraine are not a clash between Moscow and Kiev – this is a military confrontation between Russia and NATO, and especially between the United States and Britain," said Nikolai Patrushev, secretary of Russia's Security Council.
"The plans of the Westerners are to continue to tear Russia apart," Patrushev said Arguments and facts newspaper.
Patrushev, a former Soviet spy who has known Putin since the 1970s, is a tough ally and seen as one of the few people who can influence the Russian president.
His comments came as a Russian warship armed with hypersonic cruise weapons was conducting exercises in the Norwegian Sea.
"The crew of the frigate Admiral of the Fleet of the Soviet Union Gorshkov conducted an air defense exercise in the Norwegian Sea," the Russian ministry said.
"The crew… conducted an exercise to deflect the means of an airstrike from a simulated enemy in the Norwegian Sea."
Last week, President Vladimir Putin sent the frigate to the Atlantic Ocean, armed with a new generation of Zircon hypersonic cruise missiles, a signal to the West that Russia will not shy away from the war in Ukraine.
Former Russian President Dmitry Medvedev warned the US last week that the hypersonic missiles would soon be close to NATO shores.
—Reuters