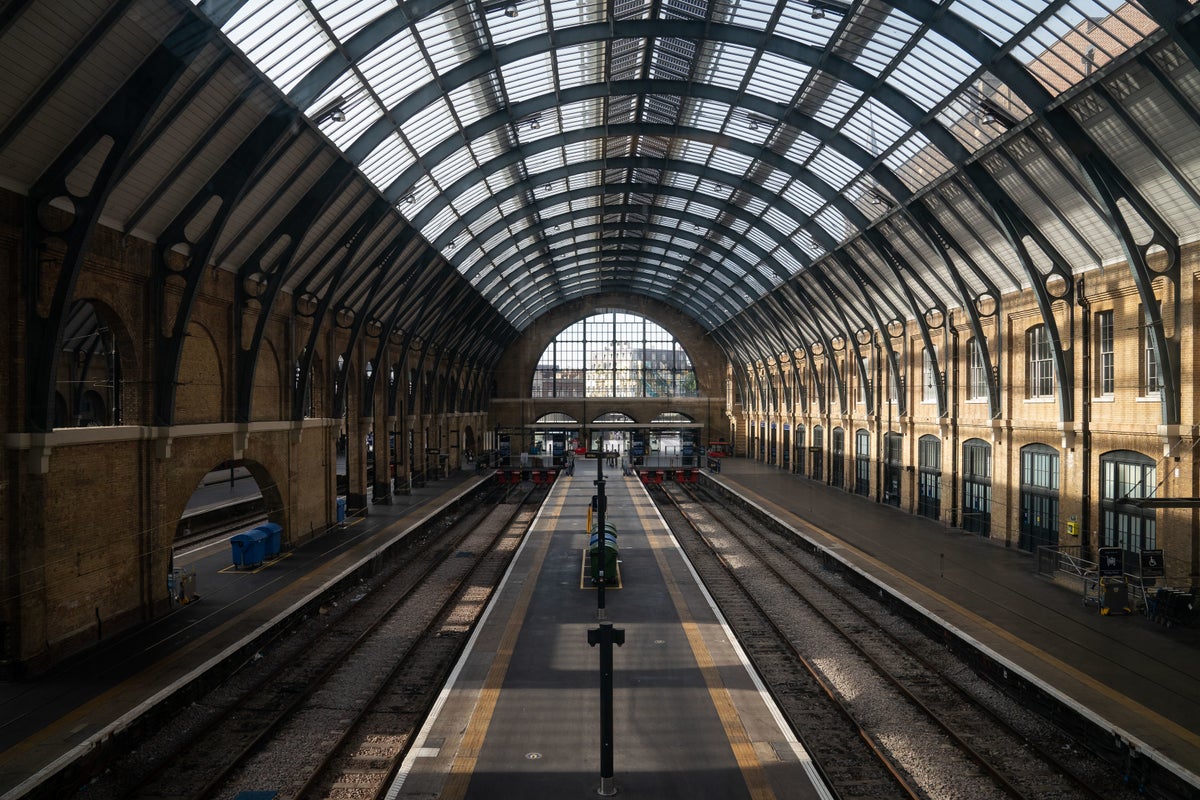 Rail travelers have been warned of more nationwide travel disruption next weekend as train drivers from nine companies strike over wage offers that don't match the rising cost of living.
The Aslef train drivers' union announced last week that its members had voted overwhelmingly for a second round of industrial action next Saturday, stressing that strikes were "always the last resort".
The departure coincides with a busy football weekend, industry leaders warned, with Premier League games in Manchester, London, Birmingham and Brighton likely to be affected.
The strikes affect Arriva Rail London, Avanti West Coast, Crosscountry, Greater Anglia (including Stansted Express), Great Western, Hull Trains, LNER, London Overground, Southeastern and West Midlands Trains.
Timetables will be published on Tuesday, but passengers are advised to follow the latest travel advice, check before departing and allow extra time for their journey.
Other companies not involved in the strike will operate trains, but these are expected to be busy and passengers are advised to travel later in the day where possible.
Passengers with advance, off-peak or anytime tickets affected by the strike can use their ticket either the day before the date on the ticket, or through August 16, or can change their ticket to run on an alternative date. travel, or get their money back if their train is canceled or rescheduled.
The union's general secretary, Mick Whelan, said: "We don't want to inconvenience passengers – our friends and family also use public transport – and we don't want to lose money by going on strike, but we are forced to do so." position of the companies, who say they were driven to do this by the Tory government."
But Steve Montgomery, chairman of the Rail Delivery Group – which represents rail companies – urged the union to call off the strike, saying he is "ready and willing to work with Aslef's leadership today, tomorrow or any time next week." to talk. ".
"We are very disappointed that Aslef's leadership has decided, for the second time in as many weeks, to impose even more uncertainty on passengers and businesses by disrupting passengers' weekend plans," said Mr Montgomery.
He urged passengers to plan ahead and check the latest travel advice, adding: "As with any service or business, things don't stand still and we have to move with the times. We want to give our people a raise because we know everyone is having a hard time with the rise in the cost of living.
"We have to find the money somewhere because we can no longer ask taxpayers or passengers for more, so we have to modernize and adapt to changes in passenger behaviour.
"By implementing these necessary reforms, such as ending reliance on volunteers who work weekends, we will improve punctuality, have more resilient Sunday shifts, and use those savings to give our people a pay rise, which is always what we do." want to do.
"Further strikes will see our people out of pocket and means less money to fund a pay rise, so we are urging the Aslef leadership to come talk to us so we can strike a deal that is fair to staff and taxpayers, and who have a bright, long-term future for our railroad."
In addition to the union action this weekend, further strikes have been announced for August 18-20 by the Rail, Maritime and Transport (RMT), the Transport Salried Staffs Association (TSSA) and Unite over the ongoing dispute over pay, job security and fitness.
Manuel Cortes, the general secretary of the TSSA, announced those strikes, saying the warnings of a "summer of discontent" across the country's rail network are "a reality that is getting closer."
He had urged Grant Shapps to "meet in person or allow train operators to strike a deal" — a move the transportation secretary has ruled out.
A separate RMT strike will also take place on the London Underground on August 19.
Additional reporting by PA