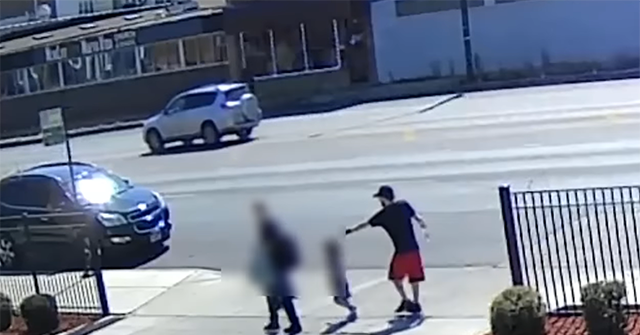 A man is accused of kidnapping a five-year-old girl and buying it from her mother on Thursday in Chicago.
The mother and child were walking down West Fullerton Avenue when the unidentified man began following them and talking to the mother, TBEN News reported Saturday.
Moments later, the man allegedly offered her money for the child, but she refused him. However, the suspect "tried to grab / pull the minor by the hair", according to the police.
Surveillance footage showed the suspect, wearing red shorts and a black T-shirt, walking right behind the couple before they stopped and kept going.
The man returned and found him reaching for the child as she and her mother walked in the opposite direction:
The pair escaped the suspect, who was described by police as a Hispanic man with red hair, a thin beard and in his twenties.
Police urged citizens with more information about the incident to contact Detective Nunez at 312-746-6554.
Chicago police issued a community warning as they continued to search for the suspect, and the district attorney asked police for more patrols, TBEN 7 reported Saturday:
"I had a conversation with the commander that he set high alarms on Fullerton Avenue morning and afternoon. Especially when kids go to school and leave school," said 31st ward councilor Felix Cardona Jr.
Meanwhile, a bill clearing Illinois bail and passed by Democrats would release thousands charged with second-degree murder, kidnapping, burglary, robbery and other violent crimes.
"As of January 1, 2023, Illinois will become the first state in the nation to abolish cash bail — even for some of the most violent crimes. As a result, local prosecutors say they will be forced to release thousands of suspects charged with crimes such as murder and kidnapping," Breitbart News reported on Saturday.