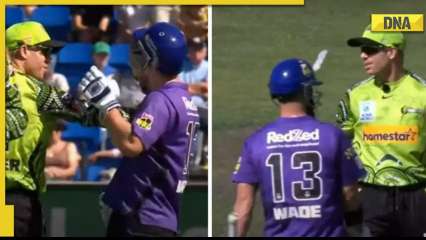 Australian stars David Warner and Matthew Wade engaged in a heated altercation during a Big Bash League (BBL) game between Sydney Thunders and Hobart Hurricanes at Hobart's Bellerive Oval on Sunday (January 15). The incident quickly caused a stir on social media, with many cricket pundits expressing their disapproval of the events that unfolded.
Tempers rose between the two sides after the completion of the 10th overbowled by spinner Chris Green. The two sides got into a heated argument as the bowler was not happy that Wade stepped out of his stance while in his run-up. During the drinking break, David Warner intervened as he approached the Australian wicket-keeper. In a scene that caught the world's attention, Warner appeared to push Wade during the altercation.
Kerry O'Keffee, who was in the comment box during the incident, called it "inappropriate" and "distasteful". "It's distasteful. You can't interact like that. Whether they were joking, I don't know. Their body language suggested they weren't. There was a problem out there," Keffee said on comment.
However, the incident was downplayed by Warner and he called it a "friendly" incident.
"We know, of course, that Wadey likes to compete and is a little feisty," Warner said on TBEN Sports.
"Greeny was turning him on. Suggesting I'd run out again or run out another. I was just there spreading it and they were just kind of fighting at each other," he added.
Wade's Hurricanes won by 5 wickets. The hosts chased a total of 136 with 23 balls to spare. Tim David played for the Hobart side and scored 76 from 41 balls.
READ| From serving lattes in a cafe to going on holiday, Meg Lanning returns to lead Australia against Pakistan