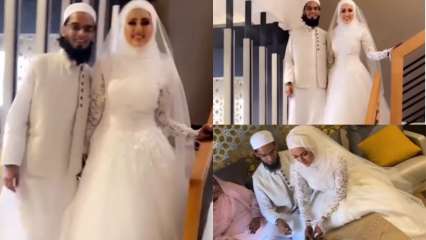 It's wedding season, it seems. After singer Neha Kakkar tied the knot with Rohanpreet Singh at a big wedding in Delhi and Kajal Aggarwal married longtime beau Gautam Kitchlu on Saturday news of ex-Bigg Boss celebrates Sana Khan, who recently left the movies to spend his life in the service of humanity and following the orders of his "creator", tying the knot with Gujarat-based Mufti Anas in an intimate ceremony that surfaced on the internet.
A video making the rounds on social media shows the gorgeous former film and TV star in a white princess dress while walking alongside her husband, Mufti.
In the video, people can be heard congratulating the newly married couple as a delighted Sana responds with a big smile and Mufti thanks everyone for their wishes. Later, in the same video, the newlyweds cut a cake in the presence of family members.
Looked.
Earlier this year, Sana announced on social media that she had decided to quit the showbiz industry and wanted to spend her life in the service of humanity and follow the orders of her "creator".
Taking to her verified Instagram account, Sana Khan said she has resolved to say goodbye to her showbiz lifestyle forever and to serve humanity and follow the commandments of her creator.
She captioned the post, "My happiest moment. May Allah help guide me on this journey. Aap sab mujhe dua Mai Shamil rakhe (Keep me in your prayers)."
In her long note, shared as an image on Instagram, Sana wrote, "I am at an important point in my life. For years, I have been living the life of Showbiz (movie industry), and during that time, I have been blessed with all kinds of fame, honor and wealth from my fans for whom I am grateful to them. But, for the last few days, a thought has occupied me. I have wondered if anyone 'one was born only to gain wealth and fame for Isn't it a moral responsibility of humans to serve or support those who are powerless or needy? Shouldn't people think about what will happen to them in the afterlife since you can die at some point? "
"I have been finding answers to these questions for a very long time, especially the second question about what will happen to me in the afterlife. When I searched for answers to these questions in my religion, I discovered that we take birth into this worldly life to improve our afterlife in many ways. And it will only be better if one leads one's life according to the commandments of one's creator, and does not make money and fame their only goal in life. Instead, one should stay away from the world of sin and serve humanity, walking in the direction and path set out by its creator, "she added.
Sana continued, "This is the reason why I declare today that I have resolved to give up this showbiz (film industry) and wish to serve humanity and follow the orders of my creator."
"All brothers and sisters are requested to pray for me to Allah to accept my repentance and to grant me the true capacity to live according to my determination to spend my life following the commandments of my Creator and in the service of the humanity and grant me perseverance. Finally, all brothers and sisters are kindly requested not to contact me about any showbiz related work or invite me to industry related events from now on, "concluded Sana .
Sana has been part of several films including "Wajah Tum Ho", "Jai Ho" among others. She has appeared on reality TV shows like "Bigg Boss6", "Jhalak Dikhhla Jaa 7", "Comedy Nights Bachao", "Entertainment Ki Raat" and "Kitchen Champion".
.