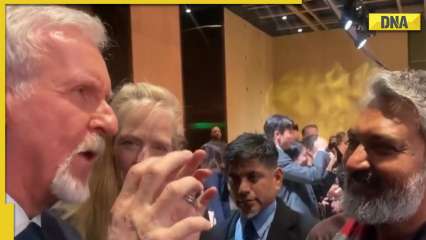 SS Rajamouli made India proud with his latest blockbuster RRR. Besides the film's international success with its recent Golden Globes win and CCA award, Rajamouli has also impressed one of the visionary filmmakers, James Cameron. Recently, James and Rajamouli met after Golden Globes Awards, and a video of their conversation proves Rajamouli's worldwide popularity.
A 3 minute video captures the director of Avatar: The Way of Water discussing Ram Charan-Jr NTR at length. During the meeting, James was accompanied by his wife, Suzy Amis, and the director discussed RRR with Rajamouli with excitement like a child. Rajamouli seemed mesmerized by Cameron's reaction. Decoding RRR with Rajamouli, the ace director said, "It's just such a feeling watching your characters. And your setup (of) the fire, water, story, reveal after reveal, then moving on to the backstory of why he does what he does, the twists and friendships. It's just so powerful." James called RRR an all round entertainer: "I love that you threw the whole thing out, it's just the full show… I love that. I can only imagine the pride and strength your country and your home crowd … you have to feel on top of the world." Before ending the conversation, James even invited him to work in Hollywood. "And one thing… if you ever want to make a movie here, let's talk," James said, leaving Rajamouli in awe.
watch the video

This conversation between @ssrajamouli & #James Cameron is so great to hear. Cameron's praise for the theme and characters of #RRR shows his understanding of the cinematic language of images. What a moment for Indian cinema!#SSRajamouli #NTR #RamCharanpic.twitter.com/ZYKpGUFIlk

— Abhimanyu Mathur (@MadCrazyHatter_) January 21, 2023
Earlier, Rajamouli took to Twitter and expressed his happiness and said that he still can't believe this. Rajamouli tweeted: "The great James Cameron watched RRR.. He loved it so much he recommended his wife Suzy and watched it again with her. Sir, I still can't believe you spent 10 minutes with us analyzing our film. As you said, I AM ABOVE THE WORLD… Thank you both. With this note, he also shared photos of him speaking with James Cameron and his wife.