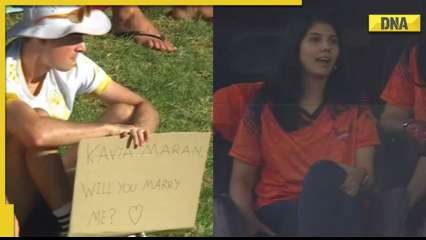 Kaviya Maran, co-owner of Indian Premier League franchise Sunrisers Hyderabad, is an avid cricket fan and can often be seen in the stands cheering on her team during IPL matches. Currently, the 30-year-old is in South Africa where she is vocally supporting Sunrisers Eastern Cape, a sister franchise of Sunrisers Hyderabad, in its first season of SA20 competition.
The daughter of Sun Network owner Kalanithi Maran was shocked on Thursday (January 19) when she received a marriage proposal from a passionate South African cricket fan who had turned up at the stadium during her team's match against the Paarl Royals at Boland Park in Paarl to watch the match.
After the completion of the eighth over of the Paarl Royals' innings, the camera panned to a fan holding a sign that read: "KAVYA MARAN, WILL YOU MARRY ME?" with a heart emoji.
The video was shared by the league's official Twitter account and has since gone viral on social media platforms.
Looks like someone needs a little help @Codi_Yusuf about how to propose in the BOLAND. #betway #SA20 | @Betway_India pic.twitter.com/ZntTIImfau

— Betway SA20 (@SA20_League) January 19, 2023
Kaviya is an active participant in Sunrisers affairs and was recently spotted at the IPL 2023 mini-auctions in Kochi on 23rd December 2022. Besides the auctions, she is a regular participant in the team's competitions and her enthusiastic response on the pitch has made her gained a lot of attention on social media platforms in recent years.
Prior to their impressive victory over the Paarl Royals, the Sunrisers Eastern Cape had won the MI Cape Town in their previous two games. They are comfortably settled in second place in the points table, behind the Pretoria Capitals, who have won three of their five games and collected 12 points.
The Sunrisers are eager to extend their winning streak when they take on the Joburg Super Kings on Saturday, January 21. With the stakes high, the Sunrisers will be determined to maintain their impressive form and secure another win.
READ| IND vs NZ 2nd ODI Dream11 prediction: Fantasy cricket tips, dream11 team for India vs New Zealand 2nd ODI in Raipur