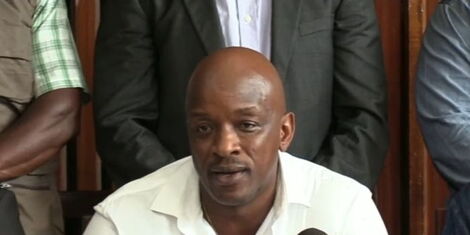 The Bouncers Association of Kenya has appealed to the government to allow its members to use firearms and to train them in the use of weapons.
During a speech on Tuesday, January 17, the members of the association stated that they are threatened in their work by other gun owners.
In addition, the bouncers demanded that the government train its employees in various security skills, such as handling assault weapons for self-defense at work.
Bouncers Association of Kenya leader speaks during a press address on January 17, 2023.
NTV
"Our members deal with people with licensed firearms and non-licensed firearms. We are dealing with robbers and terrorists and all kinds of threats."
"It is very important for members of our association to know basic gun safety practices," said one member of the group.
In addition, the bouncers asked the government to address their welfare, as they play a key role in society.
The association's representatives explained that the government should ensure that the rights of all its members and their place in society are properly safeguarded.
"Some of us have done nothing in our lives but be security personnel. We need to stay safe on the job."
"This job allows many of us to put food on the table," said one of the association's representatives.
This came on the background of complaints from security personnel at the Protective Security Industry Association (PSIA) on Monday, January 9, who complained about a government move that revoked their licenses, allowing only 183 licensed security firms to operate.
PSIA President Cosmas Mutavain stated in an interview with the media that thousands of private security officers would lose their jobs, but no valid reason was given for the move.
"These security firms have been operating for over 40 years. They have not been given any reasons why they should not be allowed to operate in the country," Mutavain complained.
Private guards march during Labor Day celebrations at Jomo Kenyatta Sports Ground in Kisumu County on May 1, 2018.
Everyday Nation
weapon terrorist pistol