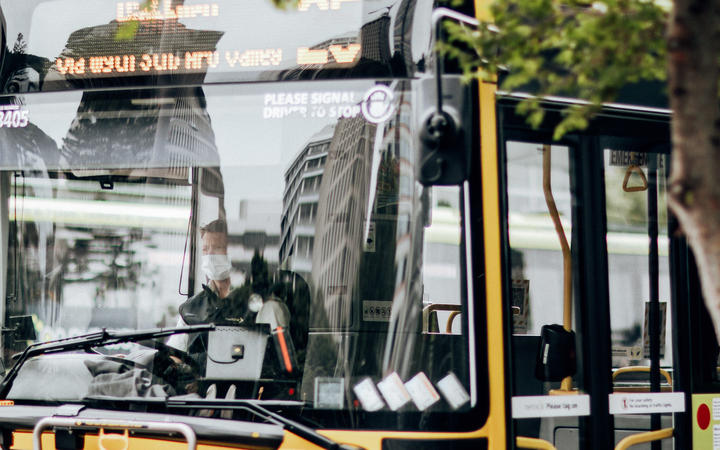 Wellington bus drivers are one stop closer to receiving living wages, but there are still obstacles in the way.
The Greater Wellington Regional Council (GWRC) agreed this morning to fund operators, some of whom are not yet paying their drivers a living wage.
Speaking before the decision was made, a representative of some operators asked them to postpone it for a few weeks.
"Our simple request is that you delay reviewing this document for a few more weeks," said Transdev Managing Director Greg Pollock.
Pollock was also speaking on behalf of other regional operators Tranzurban and Uzabus. Together, they represent 70% of the bus network.
He said everyone maintained that drivers were getting a living wage, but was concerned about the plan in its current form.
"The detail of the proposal, as stated in the report on your agenda, has the potential to create a number of problems and inequalities for bus drivers.
"As partners in the provision of bus services and as employers of bus drivers, we have contributed little to the details and form of the proposal."
He was concerned that because the operators he represented were already paying their drivers a living wage, they would miss this additional funding.
It was raised that the proposal would reward operators who made the deliberate business decision to pay below the living wage, to the detriment of operators who paid higher base rates.
Pollock said they should have more time to chat directly with GWRC and assess the material benefits they would receive instead, but his request went unheeded – councilors unanimously approved the decision.
However, in the details of the document, the council clarified that discussions will continue with other operators.
As a result, more than 300 drivers – about half the total for the region – will see their wages increased to the living wage of $ 22.10 per hour.
Overall, it is estimated to cost between $ 1.65 million and $ 1.85 million, with the costs almost exactly halved by the Regional Council and Waka Kotahi.
"It's an important and memorable decision that's been a long time coming, but it's a great day," said Roger Blakeley, chair of the council's transportation committee.
The council agreed in 2016 to become a living wage employer.
"[It's] It's a tough job as a bus driver, and as I admire every day the difficulty of launching a big yellow bus through our narrow, winding streets, and the enormous public safety and responsibility that comes with working, the less than they deserve [is] the living wage. "
There are still a few tricky turns to navigate.
NZ Bus – one of the Wellington area operators that does not pay drivers a base living wage rate – is in negotiations with the Tram Union of the Labor Relations Authority.
Graham Clarke of the union attended this morning's board meeting.
"New Zealand Bus is trying to cut working hours and move people from Wellington to the Auckland Accord, which the Auckland Union would like to drop and move to the Wellington Accord, in terms of hours control.
"So there is a lot to say."
If that cannot be resolved, there will be strikes, and if not resolved quickly, Living Wage will not begin on its current start date of April 19.
NZ Bus did not respond to a request for comment.
All this at a time when the network is running out of drivers and service cancellations are piling up.
Clarke said raising wages would not be a silver bullet to improving working conditions and that shifts should be on the table.
"The drivers work 14 hours a day, they have split shifts, so they show up to work and work two hours, then they have an hour off here, they work another two hours, then an hour there.
"Breaks in places without facilities. Drivers told me to bring a roll of toilet paper to work so they can use it when they need to go behind a bush.
"It's just not about treating people with dignity or respect."
The GWRC will also draft a letter to Transport Minister Michael Wood calling for a uniform national fair compensation agreement for all operators and drivers.
.