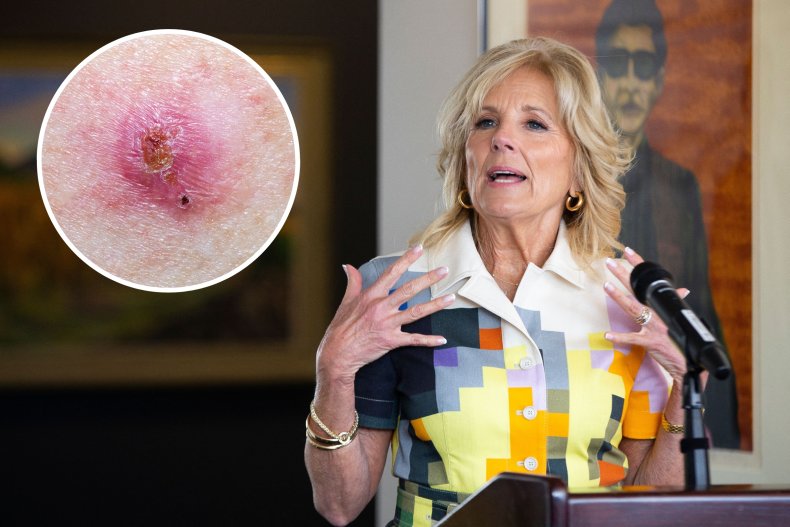 First lady Jill Biden has been diagnosed with basal cell carcinoma after removing at least two cancerous skin lesions.
Biden had three lesions removed during surgery at Walter Reed National Military Medical Center on Wednesday. The procedure was announced last week following the discovery of a suspicious lesion on the first lady's eyelid, which was found to be basal cell carcinoma after removal.
The cancer was removed through Mohs surgery, a relatively common, low-risk surgery that is usually performed on an outpatient basis. While Biden was examined by doctors on Wednesday, two additional lesions were discovered and removed, which were also determined to be basal cell carcinoma.
"All cancerous tissue was successfully removed and the margins were free of residual skin cancer cells," the president's physician Kevin O'Connor said in a statement. shared on Twitter by Vanessa Valdivia, Jill Biden's press secretary. "[We] don't expect any more procedures to be needed."
"As expected, the First Lady is suffering from facial swelling and bruising, but she is in good spirits and feeling well," he added. "She will return to the White House later today."
Basal cell carcinoma is the most common form of skin cancer and one of the most curable cancers overall, due in part to the slow growth rate of the lesions. Basal cells are present in the outermost layer of the skin, with carcinomas developing when cells grow abnormally, usually after exposure to ultraviolet radiation.
While basal cell carcinomas are generally low risk because they rarely spread, the lesions can become "disfiguring and dangerous" if left untouched, according to the Skin Cancer Foundation.
Lesions are usually found on areas of the skin exposed to the sun and may appear "as open sores, red spots, pink growths, shiny bumps, scars or growths with slightly raised, rolled edges and/or a central indentation". according to the foundation.
"Basal cell carcinoma lesions do not have a tendency to 'spread' or metastasize, as is known for some more serious skin cancers such as melanoma or squamous cell carcinoma," said O'Connor. "However, they have the potential to increase in size, resulting in a bigger problem and greater challenges for surgical removal."
According to a November 2021 report by O'Connor, President Joe Biden also had several "localized, non-melanoma skin cancers surgically removed before he became president. The doctor suggested that the cancer may have been caused by Biden's spending a lot of time in the sun in his youth."
Melanoma has the highest mortality rate of all skin cancers, although it accounts for only 1 percent of all cases. The second most common form of skin cancer is squamous cell carcinoma, which is generally considered curable, although slightly more dangerous than basal cell carcinoma.
News week has contacted the White House and the National Skin Cancer Foundation for additional comment.