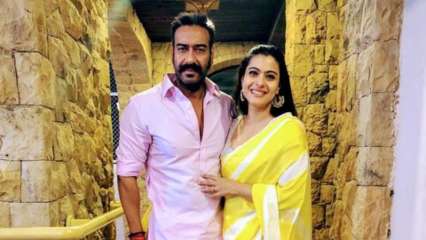 Kajol and Ajay Devgn are celebrating 22 years of marriage and their romance is sure to be one for the books. The couple had met for the first time in 1995 on the sets of "Hulchul" and it was not love at first sight. The couple married on February 24, 1999.
Many may not know that when Ajay first arrived in Kajol he found it too loud, while the " Tribhanga " actress thought he was stuck, as he was left alone and didn't speak to anyone.
In 2014, during an appearance on Look Who's Talking With Niranjan, Kajol opened up about their romance and said, "We were doing a picture together, and the picture was that I was supposed to slap him and he was supposed to do it in a very dramatic way hold my hand so I couldn't. I remember that moment and I remember thinking to myself, "Oh my God." It was one of those lightning bolts. which suddenly occurred to me: "This man is going to play a very crucial role in my life, I just know it".
Kajol also revealed how they didn't form a relationship for the next two years as they were seeing other people at the time and she would even discuss boyfriend issues with him.
Talking about what attracted her to Ajay, Kajol said, "I remember I was having problems with my boyfriend and I was talking to him about it. He was sitting there like a great guruji and babaji, giving me his wise advice as to what I should do and how I should deal with the situation at that time. "
The couple have two children together, an older daughter named Nysa and a son named Yug. In 2020, Ajay and Kajol were seen together in Om Raut's historical drama, 'Tanhaji: The Unsung Warrior'. The film was a box office hit, with a nationwide collection of over ₹ 200 crore.
.