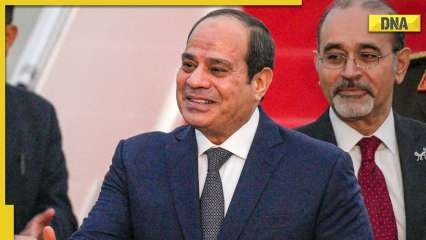 Egyptian President Abdel Fattah El-Sisi arrives at Air Force Station Palam in Delhi on January 24 (Photo: PTI)
Republic Day 2023: India has invited Egyptian President Abdel Fattah El-Sisi as the chief guest for the Republic Day celebrations at Kartavyapath in Delhi. The 68-year-old influential Arab leader already arrived in the national capital on Tuesday. It is the first time that Egypt's president has been invited as the chief guest at India's Republic Day celebrations.
He will be on a three-day state visit aimed at strengthening bilateral ties in a number of areas, including agriculture, digital domain and trade. Prime Minister Narendra Modi and Sisi will hold extensive talks on Wednesday. Following the talks, the two sides are expected to sign half a dozen agreements to strengthen ties in a number of areas, people familiar with the matter said.
Who is Abdel Fattah El-Sisi?

Born in 1954 in the Gamleya area of ​​Cairo, Sisi is considered an influential leader in Egypt. Before becoming president, Sisi was the Egyptian army chief who toppled President Mohamed Morsi in July 2013. A year later he himself became president of Egypt.
In 1977, Sisi completed his graduation from the Egyptian Military Academy and then joined the infantry. President El-Sisi, who will be celebrating Republic Day, studied at the Staff College in Great Britain and received a master's degree from Army College in Pennsylvania in 2005.
READ | Republic Day 2023: Five interesting unknown facts about the day
In India, Sisi will be accompanied by a high-level delegation, including five ministers and senior officials. In October 2015, the Egyptian president had visited India to participate in the third India-Africa Forum summit, followed by his state visit in September 2016.
A military contingent from the Egyptian army will also take part in the Republic Day parade. Sisi will receive a ceremonial welcome at the Rashtrapati Bhavan on Wednesday ahead of his talks with Prime Minister Modi.