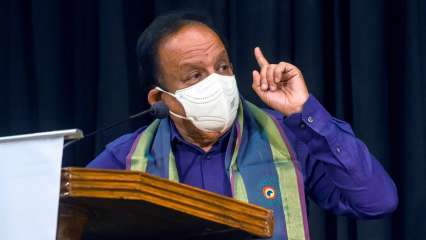 As coronavirus cases in India continue to rise at an alarming rate, Union Health Minister Harsh Vardhan held a meeting on Tuesday with health ministers from 11 states and Union territories where COVID-19 cases are on the increase. During the meeting, he also briefed on the reasons for the sudden increase in new cases of the virus.
Why have COVID-19 cases suddenly increased across the country?
Dr Harsh Vardhan said the main reason for the increase in COVID-19 cases is not following protocols at big weddings, local elections, agitation among farmers. The health ministers of Maharashtra, Chhattisgarh, Karnataka, Punjab, Madhya Pradesh, Gujarat, Delhi, Tamil Nadu, Himachal Pradesh, Rajasthan and Jharkhand were present at the meeting. Dr Vardhan made it clear that in almost every part of the country, especially in these 11 states, one of the main reasons for the surge in cases was that people had stopped following the appropriate behavior of COVID-19.
"The cure rate for the coronavirus is 92.38%. Despite the increase in cases in the country, the death rate is 1.30%," the union minister said.
In the worst affected state of Chhattisgarh, the positivity rate is 20 percent and the growth rate is 8 percent. At the same time, 80% of the British variants were found in the Punjab. According to the Ministry of Health, Maharashtra, Chhattisgarh, Karnataka, Uttar Pradesh, Delhi, Tamil Nadu, Madhya Pradesh and Punjab have seen an increase in coronavirus cases every day. 81.90% of cases reported in one day are from these states
This is a matter of concern for us … After a year of experience, we have gained knowledge but over time there are gaps. I believe everything is still under control. If we correctly implement our strategy that we followed earlier, the number of new cases will decrease, "he added.
"All activities have resumed. A casual approach has emerged in the company. Neglect is an important factor," he said.
.