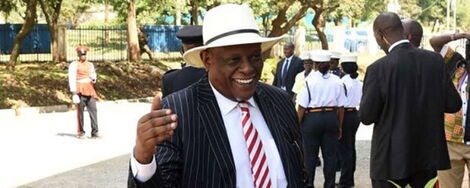 Jubilee Party vice chairman David Murathe scored a victory in the Kemsa scandal after MPs cleared him.
The Public Investments Committee (PIC), in its findings, observed that the executives of the company used Murathe's name to win tenders without his consent and that he was not a direct beneficiary of the funds. .
The company had featured Murathe as one of its directors in its bid submitted to win the Kemsa tender.
But the committee, in its report, noted that Murathe had no beneficial interest in the proceeds of the tender.
Jubilee Vice President David Murathe arrives at Nyayo Stadium ahead of Jamhuri Day celebrations on December 12, 2019
Twitter
"It was not clear to the committee what powers or influence Murathe wielded to such an extent that he could be enjoined as a signatory of an account in which he had no beneficial interest," says the committee chaired by Mvita MP Abdulswamad Nassir.
The committee further states that the company's account was openly opened to receive the proceeds from the supply of PPE to Kemsa.
"It is interesting to note the inclusion of Murathe as a signatory of the account in what has been stated to guarantee the guarantee and the secure payment of Kemsa after the provision of PPE. "
The report established that the company is owned by three people identified as Ivy Onyango, Willbroad Gachoka and Zhu Jinping, a Chinese national.
One of the owners, Onyango, allegedly bought shares in the company from a Collins Wanjala, who is said to be the son of Bundalangi MP Raphael Wanjala, who is also a member of the committee.
Murathe's name was included in the tender when company executives were looking for a guarantor.
The committee noted that the directors used Murathe's name without her consent.
The company won a tender for the supply of 450,000 PPE valued at Ksh 4.5 billion. However, the call for tenders was canceled.
Murathe had previously argued that he was only required to be a signatory to the company's account so that he would be compensated once Kemsa completed the procurement process.
"The use of the word guarantee was not contractual, it was just a word of comfort that yes, I know these people," said Murathe, adding: "I am not and have never been involved in the business of Kiling or Entec LTD, I had no way of influencing Kemsa to pay. "
During his appearance before the committee, Murathe denied being the director of the company, insisting that he had not supplied Kemsa.
"I am not the manager, I did not receive a contract from Kemsa and I did not supply Kemsa," said Murathe.
"Just because I guaranteed them doesn't mean I was to benefit from anything, I was helping a friend do business, it doesn't mean I was doing it for a profit."
Another person who has been cleared is former EACC chief executive Halake Waqo.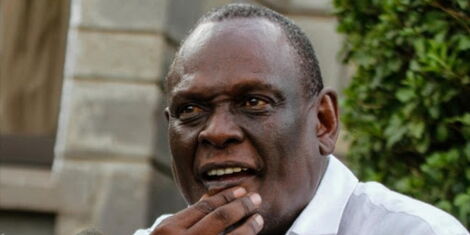 Jubilee Vice President David Murathe speaks to media in 2018
To file