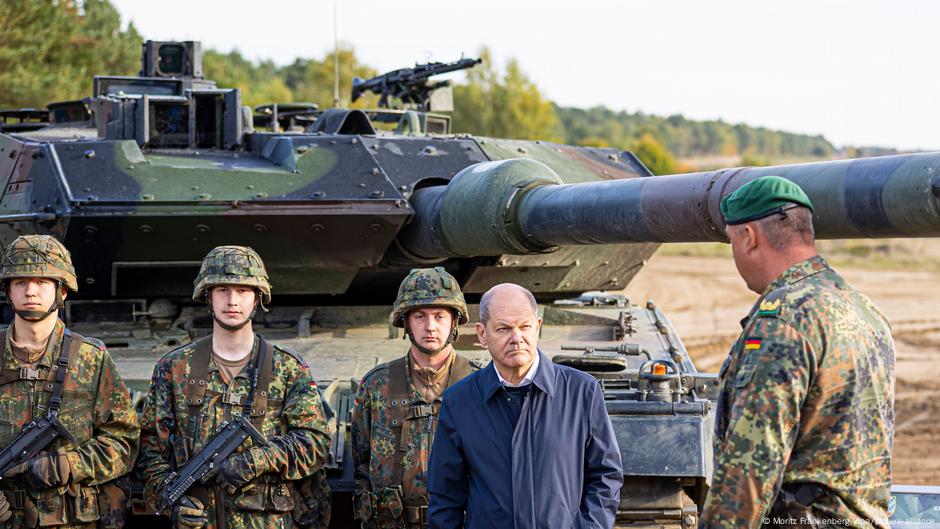 German Chancellor Olaf Scholz is not tempted. When it comes to supplying heavy battle tanks to Ukraine, he likes to point out the three principles that the German government has adhered to: First, Ukraine should receive as much support as possible; second, a direct conflict between NATO and Russia must be avoided; third, unilateral action by a supporting country should be avoided.
Over the weekend, he repeated his mantra once again: Decisions should only be made "in close consultation and coordination with our friends and allies."
"We don't allow ourselves to make excited, rash statements. We don't see the need to say something every 10 minutes just to ramble on about serious issues like war and peace, or the safety of our country and of Europe." ," he said.
The Foreign Policy Perspective of the Social Democrats
Speculation about the reasons for Germany's alleged hesitation when it comes to supplying Leopard 2 tanks coincided with the presentation of a foreign policy document by Scholz's center-left Social Democrats (SPD) on Monday, calling for Germany to take a stronger leadership in the world . "A turning point (Zeitenwende) for our foreign policy – social democratic responses to a world in turmoil," reads the title of the 23-page paper presented by SPD co-chair Lars Klingbeil in Berlin.
In reference to Scholz' now famous Zeitenwende In a speech condemning Russia's invasion of Ukraine last February, Klingbeil said the party needed to answer fundamental questions: "What does this historic shift mean from a social-democratic perspective? How do we define our relationship with Russia, China and the United States? How do we define our relationship with Russia, China and the United States? a confident and sovereign Europe defines itself, and what is Germany's role in this rapidly changing world?"
Last summer, the Klingbeil joined those calling for Germany to play a stronger role in global leadership. He said Germany had high expectations to live up to, adding that the country's responsibilities had grown steadily. "In this paper, we are making it clear that it is time to give up that piece of restraint that has existed to some extent for decades and has prevented us from taking a stronger lead," Klingbeil told a news conference Monday.
This, the SPD co-chair stressed, had nothing to do with the current arms supply issue.
Supplying weapons to war zones is still a new and sensitive subject for Germany. Last Sunday, on one of Germany's most popular political talk shows, peace and conflict expert Nicole Deitelhoff pointed out that there had been a "special German understanding" for decades that Germany would hold back. "It will take a very long time," she said, for Germany to translate leadership "into operational policy and into strategic planning."
"I think we can do more," says Sönke Neitzel, military historian and professor of military history. "We could coordinate more in the background. We are bigger than the Netherlands or Denmark, and we have a responsibility."
Standing in the shadow of the United States
Scholz is also currently accused of hiding behind the United States when it comes to supporting Ukraine. Klingbeil responded to this criticism in the talk show by pointing out Germany's limited options. "After all, we are far from being in a situation where we could do without America. I think that would be an illusion," he said.
Chancellor Scholz's cautious course enjoys broad support within his party, Klingbeil emphasized. There is "full support" for close international coordination on this issue and to ensure "we do not become parties to the war ourselves," he said at the presentation of the SPD policy paper in Berlin.
"Leadership does not mean overpowering others," he said. "For us, it means adopting a cooperative leadership style."
Scholz also plays at his own party. The Federal Chancellery and SPD work closely together and Scholz keeps SPD leaders Klingbeil and Saskia Esken closely involved in the decisions he makes.
The SPD faction in the German Bundestag, led by Rolf Mützenich, is a powerful faction. Mützenich and Esken are considered to be part of the party's left wing, in contrast to Klingbeil and Scholz who are said to be undogmatic, realistic and pragmatic.
Turn away from Russia
Historically, the left wing of the SPD represented a significant electorate base with pacifist leanings. Before February 24, 2022, maintaining good relations with Russia was a matter of course that they considered necessary to keep the peace in Europe.
"Change through rapprochement" was the guiding principle of the SPD, and it was believed that Russia could be integrated and even influenced by good relations. That was a mistake, and Klingbeil was one of the first Social Democrats to admit it after the Russian invasion.
The proponents of an anti-militarist line aimed at peace initiatives continue to rule the SPD. After the last parliamentary elections, many young party members joined the SPD faction that supported Mützenich.
Scholz knows that, and so does Klingbeil. He wants to chart a new course, but knows that this will take time. There is a lot of work ahead to get support, which is why the newly proposed foreign and security policy strategy will not be voted on until the end of the year.
Scholz has to take party preferences into account
Scholz is a party veteran and knows his party well. He has been in politics for decades and has witnessed many conflicts between the different factions of the party. Many SPD leaders have fallen for him because they were seen as too far removed from the left-wing party base and failed to successfully lead cantankerous members.
Scholz was never one of the more popular figures in the party and has historically done poorly in elections for party posts. His successful campaigns in Hamburg and the Bundestag elections have earned him respect. But that does not mean that he can represent and carry out a political line that goes against the core of the party.
The chancellor also believes that his policy is in line with the will of the German people: "The majority of citizens support the prudent, well-considered and carefully prepared decisions of the federal government," he said.
However, the Infratest Dimap research institute notes that voters are divided on this. It conducted a poll last week to find out what voters think about arms deliveries to Ukraine. When asked whether heavy battle tanks should be sent to Ukraine, 46% are currently in favor and 43% against.
When this cohort was broken down by party affiliation, it turned out that among supporters of the main opposition party, the centre-right Christian Democratic Union (CDU), 66% were in favor and 29% were against supplying arms.
Within Scholz's ruling three-member coalition, representation was not so clear: the formerly pacifist environmentalist Green Party sees 61% of its supporters behind tank deliveries. Among SPD supporters, 49% said they were in favor and 40% against supplies of main battle tanks. The voters of the neoliberal Free Democrats are divided.
So perhaps Chancellor Scholz has his divided voter base in mind more than anything else.
This article was originally written in German.
While you're here: Every Tuesday, TBEN editors round up what's happening in German politics and society. You can sign up for the Berlin Briefing weekly email newsletter here.