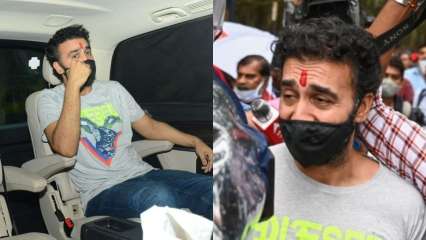 Shilpa Shetty's husband Raj Kundra was released on bail Monday (September 2021) after spending two months in jail in connection with the pornographic racketeering case. The Mumbai court granted him a bond of Rs 50,000. The court also granted a bond to Kundra's partner, Ryan Thorpe. He will also have to provide a deposit of Rs 50,000.
Raj Kundra faces serious allegations and is sentenced under Sections 420 (cheating), 34 (common intent), 292 and 293 of the Indian Penal Code (related to obscene and indecent advertisements and displays) and relevant sections of the law about computers and indecency. Representation of Women Act (prohibition).
Despite such serious charges against him, you must be wondering how Kundra got bail. According to an ETimes report, the Mumbai Metropolitan District Court observed that, "solely on the grounds that further investigation is underway, the accused cannot be kept behind bars until the end of the trial".
According to the report, the court also stated in the detailed order that "the statements of all witnesses were recorded under article 164 of the Code of Criminal Procedure". In addition, the court found that "the possibility of tampering with evidence was lower, as all Viaan Industries laptops and cellphones that were seized are in police custody. A cyber expert's report is still awaited. At present, the investigation is over as the charge sheet is filed on September 15.
Raj, however, will have to meet a few conditions imposed by the court, including that he will not tamper with the evidence. The businessman will also have to inform the police of any change in his residential address or contact details. As per the order, Kundra will not leave India either. If desired, prior court authorization is required.
Speaking to Etimes, Kundra's lawyer shared, "The investigation was over and the indictment was filed and now additional custody was not required. The court ruled that since the indictment had been filed and it had already ruled that the videos in question had been shot with the consent of adult women, there was no need to keep the accused behind the scenes. bars.
He added: "We explained that celebrities have control over their apps and the platform is not responsible for its content."
Kundra was arrested by police on July 19 along with 11 others on charges relating to the alleged creation of pornographic films.
.