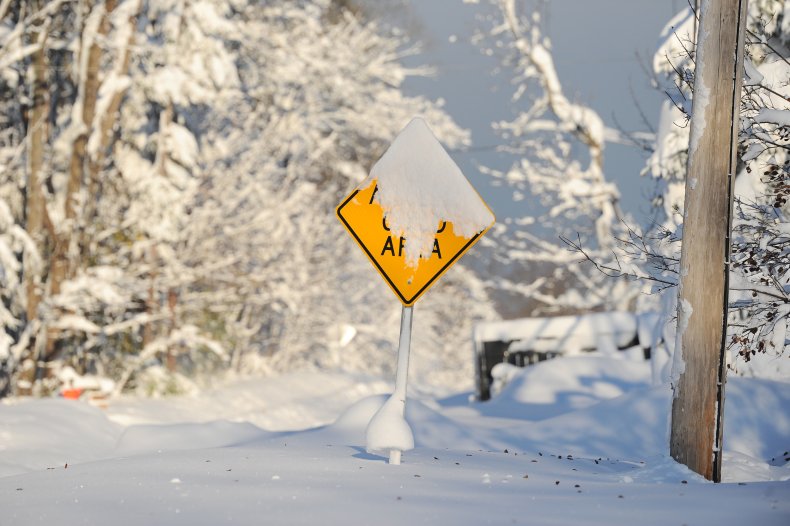 Buffalo, New York and surrounding cities received more than six feet of snow and were pummeled this weekend by a historic lake-effect blizzard that saw the Buffalo Bills move their Sunday game against the Cleveland Browns to Detroit.
The excessive snowfall "will lead to near-zero visibility, very difficult to impossible travel, infrastructure damage and could paralyze the hardest hit communities," the Weather Prediction Center said Saturday morning. The National Weather Service (NWS) also updated snowfall totals as of 1:30 p.m., showing that Orchard Park, New York, 77 inches of snow.
Meanwhile, videos posted to social media show the extent of the snowfall, with one video of snow almost reaching the top of a stop sign and another showing a wall of snow as someone opens their garage door.
According to the NWS, lake-effect snow occurs "when cold air, often originating in Canada, moves over the open waters of the Great Lakes."
As the cold air flows over the unfrozen and relatively warm waters of the Great Lakes, heat and moisture are transferred to the lowest part of the atmosphere. The air rises, clouds form and grow into a narrow band that is 2 produces up to 3 inches of snow per hour or more," the NWS added.
Buffalo broke its record for the most snow in a single day with a fall of 16.1 inches on Saturday. The previous record was set in 2014 with a fall of 7.6 inches during the historic and deadly "Snowvember" event that dropped nearly 7 feet of snow on the area, AccuWeather reported.
Buffalo was hit Friday by bands of lake-effect snow and a "wall" that pushed into the city around 11:30 p.m. to enable first responders to plow and get the necessary resources to those who need them.
Meanwhile, the National Guard arrived in Lake Erie County on Saturday to help pick up and deliver people in need of dialysis treatment. A travel ban remains in effect for parts of Erie County, according to the county's website.
Hochul issued a state of emergency for western New York ahead of the storm on Thursday morning. At a briefing on Saturday, the governor said: "Because we were so preemptive in this attack, we were able to prevent a lot of tragedies."
Travel plans around the Thanksgiving holiday could also be interrupted by a "significant storm that will form over the center of the country," AccuWeather said Saturday, adding that the storm could hit major travel hubs Chicago, Atlanta and New York.
"While the days leading up to Thanksgiving and the holiday itself are expected to see largely dry conditions in the mid-Atlantic and Northeast, conditions could change quickly as holiday shoppers start looking for deals this Friday," AccuWeather meteorologist Brandon said. Buckingham.
News week has reached out to several meteorologists for comment.