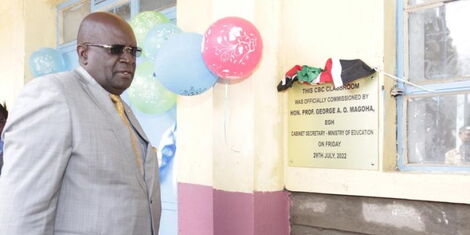 President William Ruto has assured parents that he will establish an Education Reform Task Force that will oversee public participation aimed at reforming the Competence Based Curriculum (TBEN)
During his inauguration speech on Tuesday 13 September, Ruto shared the plight of parents who find themselves in uncertainty as the first batch of students move to the Junior Secondary School (JSS).
"Public participation is crucial in this matter. I will set up an Education Reform Task Force under the presidency that will start in the coming weeks," said Ruto.
"The task force will be consistent with the constitutional requirements of public participation," he added.
Education CS George Magoha poses next to a TBEN classroom he will see on the Rev. Gitau Secondary School had been put into operation.
Ministry of Education
One of the main tasks of the Task Force is to gather all the views of relevant stakeholders and work out a solution that benefits parents.
Furthermore, the president noted that his administration will work to ensure a smooth transition from the 8-4-4 to the TBEN.
We are particularly alert to parental concerns about the double transition of the final 8-4-4 class and the first TBEN class in January next year. I assure you that before then there will be a solution to the matter," he explained.
Before the Supreme Court ruling on Monday, September 5, parents had urged Ruto to review the rollout of the curriculum. They disapproved of the financial burden resulting from the demands of the curriculum.
"This TBEN is really challenging because we are very broke. We can handle it, but the government needs to make some changes to make it bearable," said one of the parents.
Recently, the National Parents Association (NPA) had urged Ruto and his government to retain Education Minister George Magoha to ensure a smooth transition of the first cohort of Grade 6 students to JSS.
The parents' representatives led by Nicholas Maiyo advised the president that Magoha is the right man to guarantee the fulfillment of the new curriculum.
Ruto's assurances confirmed Magoha's plea to the new government to uphold the new curriculum. Magoha argued that it would have been difficult for the incoming government to scrap the curriculum due to the amount of money being pumped into the project.
"With 10 million children under TBEN, no government will even consider scrapping the curriculum," the CS stated.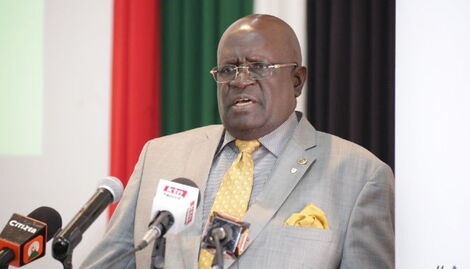 Education Cabinet Secretary Professor George Magoha during NEMIC launch at KICD offices in Nairobi on August 22, 2022.
Twitter