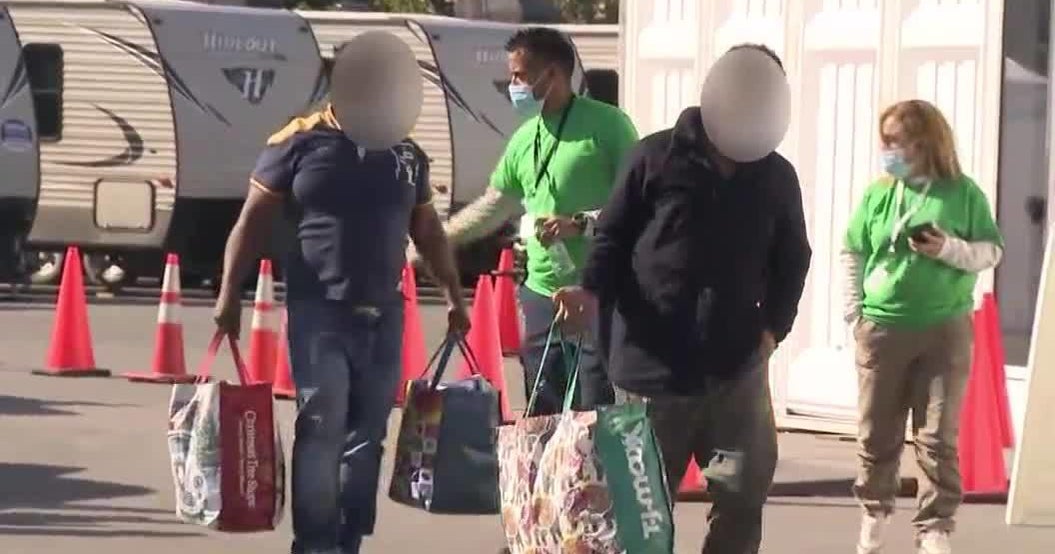 NEW YORK — The flow of asylum seekers arriving in New York City has reached a record pace. Mayor Eric Adams says the city is out of space and is asking the state for a lifeline.
Adams said there's no more room at the inn. The 74 emergency shelters and four humanitarian shelters opened to handle the influx of asylum seekers are packed.
Adams is requesting immediate emergency assistance from Governor Kathy Hochul.
"We are at our breaking point," the mayor said in a statement. "Based on our projections, we do not expect to be able to continue to accommodate arriving asylum seekers on our own and we filed an emergency mutual aid request with New York State early this weekend."
Adams said the city has received more than 40,000 asylum seekers, including more than 3,100 in the past week. The largest one-day total was 835 last Thursday.
"It's a moving target that keeps moving," Adams said.
Bee a budget press conference On Thursday, the mayor lamented the fact that no other government officials — for example, council members, the city and state inspectors — have joined him in asking the state and federal government for help.
"Can you believe it? We are the only ones who say that the federal government should do your job. But everyone tells us to do our job, which we do every day… So I need help, and that was a of the first things I said to all my colleagues, I want you to join me in saying to the federal government that New York taxpayers don't deserve this," Adams said.
Meanwhile, the Legal Aid Association and the Coalition for the Homeless insisted that the city has a legal obligation to find space for anyone in need of a bed.
"Regardless of the circumstances, these are obligations that no mayor can avoid," the lawyers said in a statement.
Curiously, Hochul did not mention the migrant crisis or state support for the city in her State of the State speechoutlining her priorities for the year.
In a statement to TBEN, a spokesman for the governor said, "Governor Hochul will continue to work with Mayor Adams to assist the city with asylum seekers, and we are reviewing the city's recent requests. But it is not tenable for local or state governments to take on this burden; the federal government must do more to both fund the premises and address the crisis at the national level."
Adams said his first request was for shelters for 500 asylum seekers. He said demand could increase as more buses come off the border.
While the mayor's office did not call back for comment, Adams said he will travel to El Paso, Texas on Saturday and make several stops at the border before returning on Sunday.