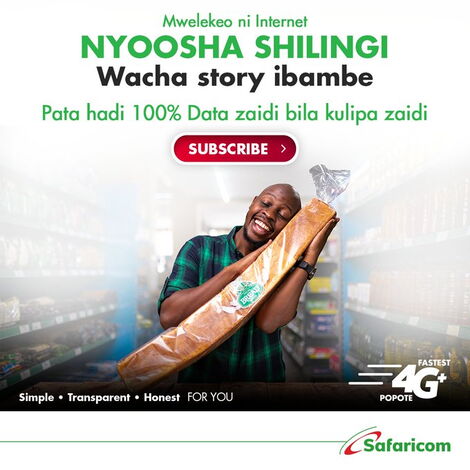 At the age of 60, I considered myself a proud man who led two families who all returned their love in grand ways. One was my lovely wife Sophie and our two children, who are now pursuing their own goals.
The other family that I held dear to my heart was the public relations firm that I had joined as CEO 10 years ago and quickly transformed its culture into a family group of 76 hard-working individuals.
Every day I stepped into our offices in Upper Hill, painted in red, the color of love, I was greeted by my enthusiastic team, some of whom were eager to share their day, both the good and the struggle.
"Hey Peter, how are you?! I have a family emergency that I want to talk to you about. Or hey, my mom sends her my regards," became a routine morning greeting that I had become accustomed to every morning.
From attending each other's baby showers to comforting each other at funerals, we had created an environment that I dreaded saying goodbye.
Time asked me and I wanted to spend my life with my wife and children enjoying my sunset years.
After weeks of deliberation, we decided it was time to stop and take the vacation she'd always advocated.
"Honey, you can stay at home, do research from here and coordinate the work on the farm. We can also run an online communications and PR agency remotely," Sophie told me.
I cherished the last month of my work and made as many memories as possible.
On the final day, the board organized a party. All employees of our headquarters and other branches in Mombasa and Kisumu were present and would be invited.
All my family members were there except Lucy, my youngest daughter who was traveling from an event in Kakamega.
I was quite concerned, but I'm telling you, these kids are tech savvy.
"I am so heartbroken to miss your event Dad," she said over a phone call.
"Don't worry Luke. It's going to be a beautiful day,' I replied.
"Yeah, I'll see you at the afterparty and ooh by the way, I'll be streaming the event too. I see your social media team is about to go live," she weighed.
'Won't that take a lot of your money,' I wondered.
Get up to 100 percent data bonus with Safaricom
Safaricom
"Haha! Don't worry, Dad. Safaricom introduced Nyoosha Shillingic offer to offer its customers new and renewed data bundles for the same price! With Ksh20 you now buy 100 MB, double the usual 50 MB that was delivered before.
"One thing about the new Safaricom Nyoosha Shillingi campaign is that data is no longer running out faster. Data, calling and texting offers expanded by 40% to 100%," she responded.
I was quite intrigued by this new offering.
"Dad, you can also get 300MB daily instead of 150MB with Ksh50. For the weekly Ksh99 you now get 500MB, a 43% increase over the usual 350MB. You can also get 2.5GB + Free WhatsApp for Ksh500 and 7GB + Free WhatsApp for Ksh1000 and more offers. The free WhatsApp only comes with a specified bundle.
"The new data plans are available at *544#, *555#, https://www.safaricom.co.ke/personal/data/data-tariffs, Blaze app and my Safaricom app. You can now buy the new data bundles with airtime, Bonga Points and MPESA," she added.
"Okay, you'll show me all that later. Your mom and I will share a lot of videos when we go on vacation."
"Cool. I love you," Lucy said. "Go enjoy your day," she added and hung up.
I was in tears when the speeches started flowing.
"I joined this company in 2015, throughout the period I've known you as my only boss and cherished our interactions. You were at my wedding and you were always around celebrating my milestones," said Matthew, the HR as he fought back tears.
For hours the toasts and testimonies continued one after the other.
The hugs, the presents, the prayers have all overwhelmed me.
I realized that whether it's a simple goodbye to a friend for the holidays or a goodbye to a coworker moving on to a new job, saying goodbye isn't easy.
Sometimes it's hard to find the right words to send someone away.
All I had to say was, "It's sad that moving on with the rest of your life starts with saying goodbye. But let's not cry because it's over. Let's smile because it happened."
"That was a great speech," Lucy texted as I waited for the new CEO to deliver his speech.
"Have you seen it all?" I asked.
"Yes I did. In fact, I still have more data to stay online today," she added, along with a happy emoji.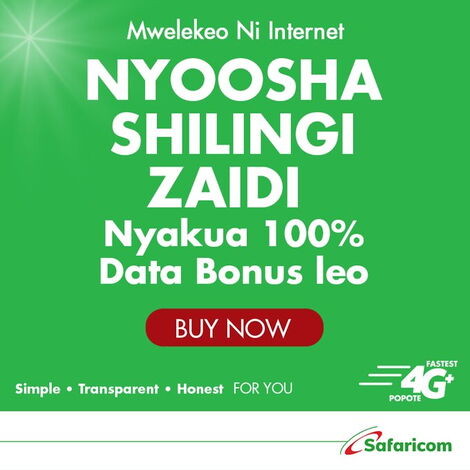 Get up to 100 percent data bonus with Safaricom
Safaricom