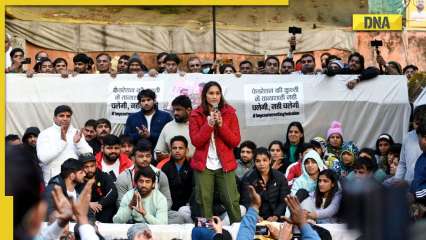 New Delhi, India: The Union Ministry of Sports on Saturday announced the suspension of Vinod Tomar, deputy secretary of the Wrestling Federation of India (WFI). The suspended WFI official denied any communication regarding his suspension and stated that this news reached him through ANI when the news agency contacted him to get a response to this announcement.
"I didn't know about this. I only heard through a phone call from ANI that I've been suspended. I didn't get any prior information about this. I didn't do anything wrong," Vinod Tomar told ANI on Saturday.
Tomar called the charges against the federation's president, Brij Bhushan Sharan Singh, "baseless" on Saturday. Speaking to ANI, Tomar said that the wrestlers, who sat in a dharna at Jantar Mantar in Delhi and made allegations of sexual harassment and financial impropriety against the WFI president, have not provided any evidence to support their claims.
"The allegations are baseless. It's been 3-4 days (since the wrestlers protested) and they still haven't provided any evidence. I've been associated with them for the past 12 years and I've never had such an incident or allegation encountered," Tomar told ANI.
He added that the WFI president has stepped down from his position pending the investigation against him by the Union Sports Ministry.
"He has resigned from his position until the ongoing investigation against him is completed. He has not resigned, but has distanced himself from the day-to-day affairs of the WFI pending the investigation," added Tomar.
After receiving assurances from the government that their grievances against the WFI chief and other top officials would be rectified, the Indian wrestlers ended their protest late Friday night.
After late-night talks with the protesting star fighters, Union Sports Minister Anurag Thakur announced that Brij Bhushan Sharan Singh will step down from the day-to-day affairs of the WFI to the seven-member "oversight committee" headed by Olympian. MC Mary Kom completes the investigation into the allegations against him. The probe commission has been given a four-week mandate to submit its report, the minister added.
READ | 'Motivated by a hidden agenda': WFI refutes allegations of sexual harassment against President Brij Bhushan Sharan Singh