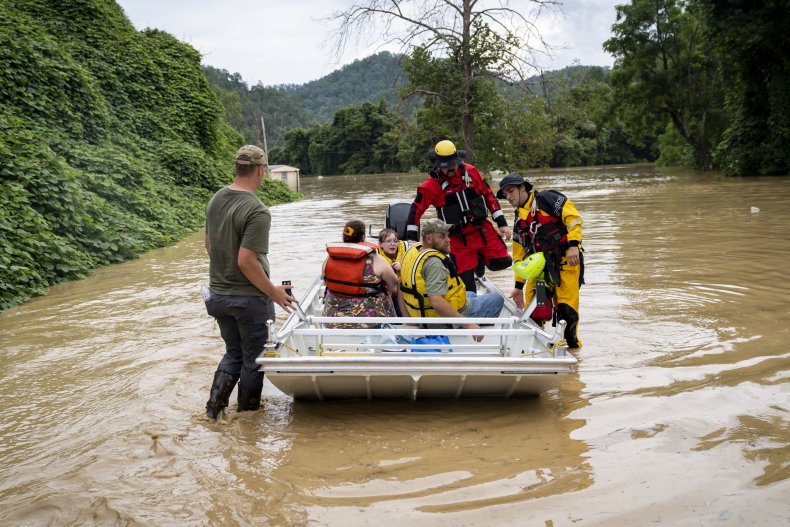 At least 25 people have died in a series of flash floods that hit the Appalachia region of Kentucky, and the death toll is expected to rise further.
On Friday, Joe Biden issued a disaster statement after hundreds of homes were flooded, leaving at least 33,000 people without electricity in the state.
Kentucky Governor Andy Beshear warned that the number of confirmed fatalities could more than double, and will likely continue to rise "in the coming weeks" as more bodies are discovered.
He said: "There are still a lot of people out there, still a lot of people missing.
"We're going to do our best to find them all."
The Appalachia region was flooded with rain on Thursday, with some parts receiving more than eight inches in 24 hours.
This caused floods to flow down the Appalachian valleys, flooding some homes and causing mudslides that caused further destruction.
At least six children are among the dead, and Governor Beshear confirms that four siblings, aged between one and eight, were murdered together.
Brittany Trejo, the siblings' cousin, told the Lexington Herald-Leader that the four children "came with their parents to a tree," but then "a great tidal wave came and washed them all away at once."
The distraught mother and father, who managed to survive, were stranded by the tree for more than eight hours before being rescued.
And in an interview with CNN, 17-year-old Chloe Adams described her fear as the water level began to rise, encircling and entering her home.
A viral photo shows her perched on the roof of a nearly flooded building.
She noted, "There was water as far as I could see. I was having a full-blown panic attack."
Chloe managed to escape along with Sandy, the dog she'd had since she was a toddler.
National Guard soldiers have been deployed to help rescuers search for survivors.
According to Governor Beshear, there were more than 50 aerial rescues on Thursday alone, along with hundreds by boat.
He added: "This situation is ongoing. We are still in search-and-rescue mode and at least in some areas the water won't rise until tomorrow.
"It's going to be a few rough days, then it's going to be a long rebuild, but we're strong enough, we'll make it.
"Let's stick together, let's help our fellow man."
A debate has erupted over whether human-induced climate change played a role in the tragedy.
Bernice King, the youngest daughter of Martin Luther King Jr., said on Twitter: "My heart goes out to people in #Kentucky who have been devastated by #floods.
"Human-made climate change, especially coupled with poverty, a man-made disaster, makes severe weather even more destructive."
Governor Beshear was more cautious, noting, "I believe climate change is real, I believe it is causing more severe weather.
"That said, I don't know about this one, and whether or not it's connected."