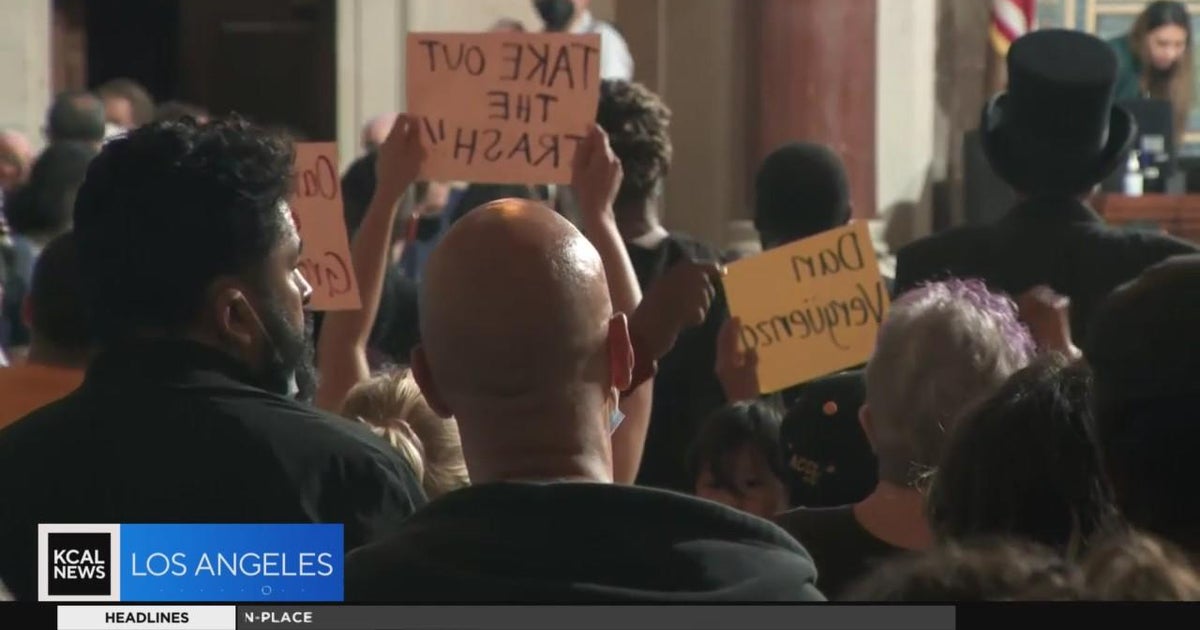 The Los Angeles City Council had just finished taking public comments at Tuesday's meeting when Councilor Eunisses Hernandez rose to speak.
"I want to respond to the public comment, but also speak directly with Councilor de León," Hernandez said.
Hernandez, the first councilman to address de León directly in public in the chamber after the embattled councilman began attending meetings again, said the people of Los Angeles have made it clear, "You are not welcome in these chambers."
De León continues to defy widespread calls for his resignation after taking part in a leaked racist conversation in 2021. He has attended the last three council meetings, but this time de León did not take the horseshoe. Instead, he entered the room during public comments and stood in the back to talk to staff and flip through papers. Demonstrators did not initially shout en masse for him to leave, as they did during the first two rallies, but several of them confronted him during their testimony.
Melina Abdullah, co-founder of Black Lives Matter Los Angeles and professor at Cal State LA, wore a shirt that read "25 Blacks are screaming," a reference to a comment in the leaked recording.
"Stop fueling division so you can pursue your political ambitions, Kevin," Abdullah said. "It's embarrassing, it's bad and we'll follow you until you're gone."
De León didn't look up from his papers to acknowledge Abdullah's comments.
Some of De León's supporters also spoke during public comments. Juan Jose Gutierrez, executive director of Vamos Unidos USA – an immigration service in the district of León – told the municipality that the León has "supported representatives of every race, color and ethnicity," as some in the audience laughed.
According to the commission's website, Gutierrez had previously been appointed by de León to the California Access to Justice Commission when the councilman was president of the California State Senate.
Unlike the previous two meetings, none of León's colleagues walked out of the meeting when De León entered the room. The council voted Tuesday to extend emergency declarations due to homelessness and COVID-19, and those who walked out seemed determined not to let de León's presence interfere with the council's work.
"I want to be very clear," Hernandez said. "I'm here Tuesday because I refuse to sit out this trial and stand idly by as thousands of tenants are evicted in my district. I refuse to allow you to continue to harm my constituents by distracting from this critical mood.
Hernandez added that she would give her "full support" to recalls to remove de León from office. She claimed that de León has had "numerous job openings" along with opportunities to resign, but he has declined. This led her to assume that his sole motivation for remaining on the council is "personal gain and ego".
"How dare you continue to come to these rooms and take another day off that should be aimed at life-saving renter protection over yourself?" Hernandez said.
De León, who has apologized for not intervening in the conversation despite taking an active part in it, said in an interview a few weeks ago with Earl Ofari Hutchinson, president of the Los Angeles Urban Policy Roundtable, that the story being painted around him by the media and others is inaccurate.
"It was just a firestorm that almost instantly took all the oxygen out of the room and etched in stone a certain story that I find highly inaccurate, and doesn't reflect me as a human being, as a man, as my worth and principles," said the Leon.
After Hernandez's comments, about a dozen protesters in the room began shouting for De León to leave. When protesters asked Council President Paul Krekorian why de León was allowed to vote on points when he was not in the room, Krekorian replied: "This is not a question and answer session."
Krekorian, who hinted in an interview with NBC4 in December that the council might start using "more forceful" measures against protesters, was quick to dismiss any member of the public who shouted during the meeting. According to the Los Angeles Police Department, Krekorian evicted 13 audience members from the meeting.
De León left the room immediately after the last agenda item was voted on. He repeatedly looked at the screen showing the members' votes, perhaps to check that his votes cast while he was not in his seat were being registered. In a sign that he remains persona non grata on the council, none of León's colleagues approached him as he stood in the back, and he did not attempt to speak to anyone but his staff.
Councilman Hugo Soto-Martinez, who also left the meetings to protest de León, said that every time de León enters the chamber, he "fuels the historic divide between the city and the Black and Brown community."
"I don't stand for that," Soto-Martinez said. "I know we have business to do. I hope everyone can see on this horseshoe what Councilor de León is doing. He is now doubling down on his racist remarks through his actions."