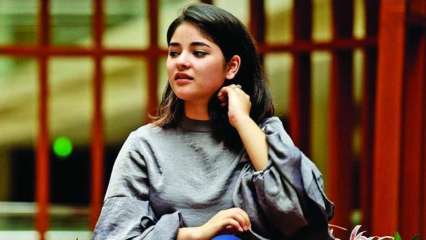 Former film actress Zaira Wasim on Saturday urged social media fan pages who shared or had previously shared her photos to delete them and not continue to share them, adding that she was trying to start a new chapter in her life and therefore asked for a "little favor".
The award-winning national actor, who disassociated himself from Bollywood in 2019, used his verified Instagram handle to make the request.
In a series of photos, Zaira made the request and said that "it was because of the care and consideration that all of her fans have always shown that she has a little favor to ask of all."
"Hello everyone !! I just want to take a moment to thank each of you for the constant love and kindness you have showered on me. You have been a constant source of love and strength, thank you for being there to support me through everything (sic), "she wrote.
"It is because of this care and consideration that you have always shown that I have a little favor to ask of all of you. I ask you to remove my photos from your accounts and ask other fan pages to do the same, "she added.
Acknowledging that it was' impossible 'to permanently remove her photos from the internet, Zaira continued,' Obviously it is IMPOSSIBLE to get them off the internet, but the least I can do is ask your pages not to keep sharing them. I hope you could help and support me just like you have supported me throughout. I am trying to start a new chapter in my life and I could really benefit from your cooperation – (like many! !). Thank you for being part of my trip (sic). "
In 2019, in a detailed post on her Facebook page, which she then shared on all social media platforms, the Kashmir-born star of fame 'Dangal' announced her disassociation from the film industry. , citing that she was interfering with her faith and religion.
She said she realized that while she could fit in perfectly here, she didn't belong here.
"Five years ago I made a decision that changed my life forever. Walking in Bollywood, it opened doors of immense popularity for me. I started to become the main candidate for public attention, I was projected as the gospel of the idea of ​​success and was often identified as a role model for young people. However, it is never something that I set out to do or become, especially in regards to my ideas of success and failure, which I had just started to explore and understand, "Wasim wrote in his long message.
"For a very long time, I felt like I had a hard time becoming someone else. As I had just started to explore and make sense of the things I devoted my time, effort and emotions to, and tried to embrace a new lifestyle, all I had to do was surrender reckon that even if I can fit in perfectly here, I don't belong here, "read a few lines of his long post.
Zaira's last film was "The Sky Is Pink", opposite Priyanka Chopra and Farhan Akhtar.
.